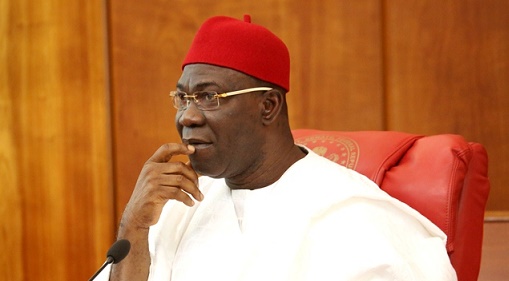 Deputy President of the Nigerian Senate, Senator Ike Ekweremadu has said the President Muhammadu Buhari-led government is giving less attention to the Eastern part of the country.
Ekweremadu, representing Enugu West in the Senate, stated this during plenary on Wednesday.
The Deputy Senate President cites orders 42 and 52, and raised a motion on railway development in Nigeria.
"For a country to survive there has to be equity, fairness and justice. Less attention is being given to the Eastern part of Nigeria," he stated.
According to Senator Shehu Sani, who contributed to the motion, the Senate had invited the Minister of Transport, Rotimi Amaechi, who promised that Port-Harcourt-Maiduguri route would be the next priority.
"Nothing has been done," Senator Sani said, adding: "That line has a lot of political, social and economic advantage as it can open many opportunities".
Senator James Manager opined that the matter is of great interest to all Nigerians.
"I remember following these lines as a young boy, that part of this country is very stressful. Everything about the railway lines will improve the Nigerian economy as a whole" he said.
Contributing to the motion, Senator Ahmad Lawan said, "The problem is that there is only rehabilitation and not modernization. What is given to other parts of Nigeria should also be given to the Eastern part.
"Mr. President has said that every capital in Nigeria should be linked to a railway line. Let us ensure this is done".
Asmoved by Senator Sani, the Senate resolved to invite the Minister of Transport to brief the Committee on Land Transport and Local & Foreign Debt on the Federal Government plans for rail development from the Port Harcourt and Enugu railway axis.
"Let's ensure that this happens so that there is equity in the railway development across the entire country,"- Senate President Bukola Saraki stated conclusively.