VIDEO: BBOG Co-Convener, Aisha Yesufu (@AishaYesufu) Calls For President Buhari's Resignation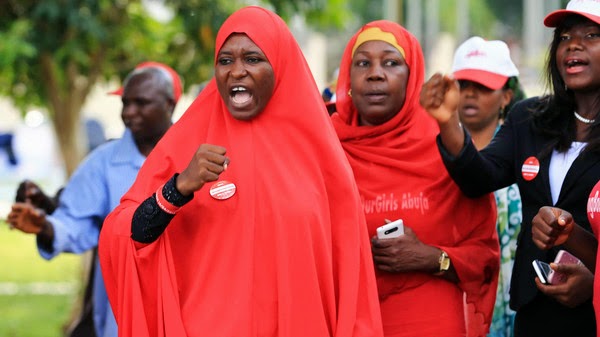 Aisha Yesufu
Aisha Yesufu, Co-convener of the Bring Back Our Girls, BBOG, has called on President Muhammadu Buhari to resign.
---
In a video posted on Twitter, Yesufu said , "When are we going to realize that this acting president thing is just not working out. It is really not working out. Things are stagnating in Nigeria. For crying out loud, the president is sick. The President is not capable of discharging his duties as president.
Why can't he resign. Sickness can on anybody. Nobody is wishing the president bad. The fact that he is sick doesn't mean that he is going to die today or tomorrow.
"Somebody that is as healthy as I am right now can drop dead. It is life! For how long are we going to wait and see things go in disarray. Who is going to sign the budget we don't know. The report on Babachir, what is happening to it. Why are we being held to ransom?".
When would we realise this Acting President thing is mere lip service and not working out? May God heal President Buhari. He needs to resign pic.twitter.com/NLWO8Jldpl

— Aisha Yesufu (@AishaYesufu) May 18, 2017
In Pidgin English:
E don reach wey Presido go resign go look after body. As sickness no allow am we pray for am to get good health but e must consider Naija pic.twitter.com/NrIZiPOCmm

— Aisha Yesufu (@AishaYesufu) May 18, 2017
In Hausa:
Menene duniya da PMB ba zai bar karagar mulki ya kula da kanshi ba? Cuta Allah ne ke dorawa mutum. Ya dora wanda yaso ya yaye wa wanda ya so pic.twitter.com/gKGBPH2fTh

— Aisha Yesufu (@AishaYesufu) May 18, 2017
In Igbo:
Afemai efe wa khetse ni President khare resign? No ya dane egbe? Ugwua lo gwa.
Oni Nigeria na ma eregbekpo ma mo. E khi utuokpa o mo. pic.twitter.com/DkV4vJbq19

— Aisha Yesufu (@AishaYesufu) May 18, 2017
---

Receive Alerts on: Whatsapp: +2348139009126 (WhatsApp Only), Twitter: @OkayNigeria.