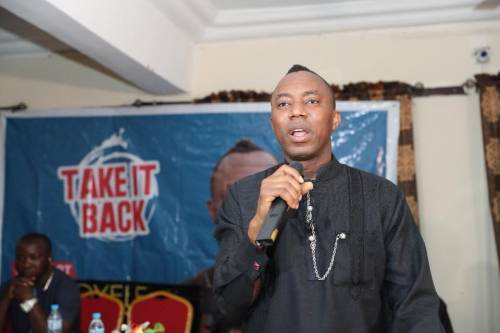 Nigerian media mongul and presidential aspirant of the African Action Congress (AAC), Omoyele Sowore, wants to have a debate with President Muhammadu Buhari of the ruling All Progressives Congress (APC) as well as other presidential aspirants.
He made this known on Channels Television while speaking on the programme "Politics Today'' that aspirants should be bold enough to participate in debates about policies and projects they will execute if they become president.
"If want you to be more serious, you should be bringing these presidential candidates to debate us." He said.
He added that young and new presidential aspirants should also be given the audience and the opportunity to challenge older aspirants through debate.
"Buhari should be brought out. The media should force them out of their hiding. Let them come and debate the future of Nigeria," he said.
Sowore emphasized that contrary to claims, young people have come up with alternatives to the current leaders. "These alternatives will kick out the old guards in 2019," Sowore declared.
He stressed that younger presidential aspirants are the viable alternative and were capable of doing much more in directing affairs of the nation.
"The alternative is here, that is what we should be debating. We should be talking about the fresh ideas that we are bringing on the table.
Sowore said: "In Nigeria, when we have people like us who have capacity, character, and integrity. We've got stamina, intellect, history, and pedigree.
"Young people are here to take their country to the next level of prosperity. We want to say goodbye to poverty, incompetence and lacklustre kind of leadership."