Sport
Solskjaer speaks after Manchester United failed to defeat Wolves in FA Cup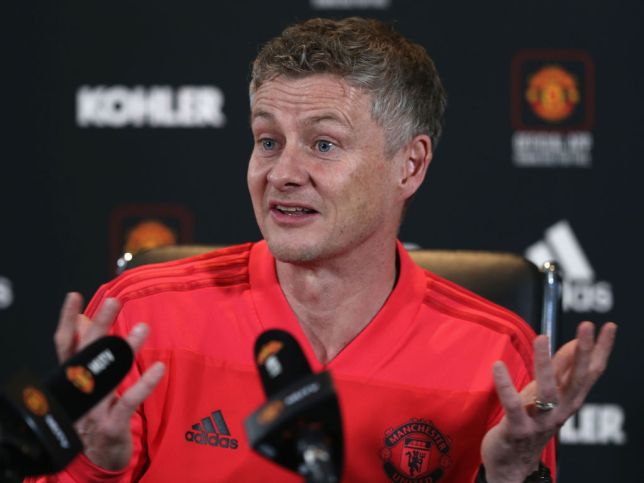 Ole Gunnar Solskjaer has delivered his verdict after Manchester United failed to defeat Wolves in the FA Cup as the match ended 2-1.
Speaking after the match at a press conference, the caretaker manager delivered his verdict on the performance of Sergio Romero and had a message for the squad ahead of the international break.
Read his verdict below.
"It was very disappointing. All in all, they deserved to win because they had the better of the chances. Yes, we dominated possession but we never really felt in control and I never really felt that we put them under pressure. It seemed like they were happy with how the game went in the first half and then, of course, it's disappointing giving easy goals away. What was missing? Quite a lot actually. Today was the poorest performance we've had. Last week [at Arsenal], we were happy with the performance but, today, we didn't have the urgency or the quality on the ball. I felt, without the ball, we did okay in the first half but the tempo on the ball wasn't high enough. So we played into their hands really."
Speaking on Lack of attacking intent, Solskjaer said:
"That's football for you. It's just a slight off on the quality and the tempo of the passing. I thought that was maybe the biggest letdown and the urgency because we are better when we play quickly, we play forward, we run forward. A couple of times when Paul [Pogba] broke free in the first half and drove at them, [there were] two yellow cards [for Wolves]. A couple of times we played Rashy [Marcus Rashford] through the middle, in behind the centre-backs. Then if we had the possession, [it was] too comfortable – I think we played it too comfortable."
Speaking on Romero's saves, Solskjaer said:
Sergio made some fantastic saves – he's played really well again. But that's disappointing because they had the better of the chances. They deserved the win. Sergio kept us in the game with a fantastic performance from him again but we never put their keeper under pressure.
Speaking on Drop off in quality, Solskjaer said:
"Well, I think it's something natural. You cannot perform to the top of your levels every single time. This is the poorest we've played but it was still against a good team. They've done really well against the top teams this season and don't take anything away from their performance, even though we underperformed."
Speaking on Lindelof's overturned red card, Solskjaer said:
"I didn't see it. I've got to be honest. I just looked over to get Juan [Mata] ready to come on. So I didn't see it. But the VAR discussion tonight – there could be loads of discussions about that one, both in ours with maybe a penalty and the red card, and the other games. I just don't know, though, I haven't seen it."
Sending Message to the players, Solskjaer said:
"[The international break] is happening so we can't do anything about it. The players who go away with international teams, go and enjoy it, go and play as well as you can. Some of them are called back into a squad, maybe that will give them a boost. We just need to come back recharged. Whether you have days off or you play with your national team, come back with a big smile, loads of energy and be ready for the league and Champions League. We're in a great position in the league, we've got the Champions League but we're very disappointed tonight we're not in the semis." – Read More HERE