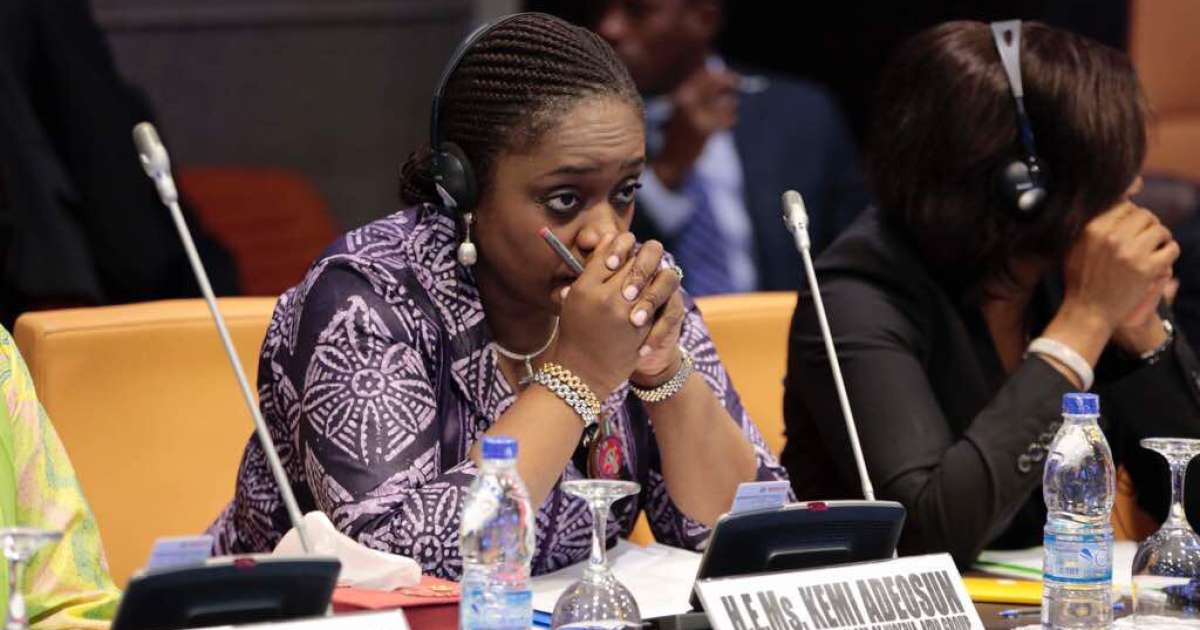 Peoples Democratic Party (PDP) has called for immediate arrest and prosecution of former finance minister, Kemi Adeosun, for presenting a forged National Youth Service Corps (NYSC) certificate.
okay.ng had reported that Kemi Adeosun had resigned as Nigeria's Finance Minister.
In a statement from its National Publicity Secretary of the PDP, Kola Ologbondiyan, claims that the Federal Government is plotting to secretly move Adeosun out of Nigeria.
The statement read in part, "The party invites Nigerians to note that President Muhammadu Buhari, whose administration has become notorious for shielding its many fraudulent and corrupt officials, could not summon the rectitude to sack Mrs. Adeosun, adding that she would have still been in office, if not for the sustained uproar by Nigerians and international creditors.
"Our investigations reveal that the Federal Government, which earlier made efforts to defend Mrs. Adeosun, has already perfected a plot to help her to evade prosecution following fears that she could open up on the humongous corruption going on in the financial sector under the Buhari administration.
"The PDP is also aware of plots by the Federal Government to secretly move her out of the country, and for that, we urge the international community to be at alert and ensure she is repatriated to face justice in Nigeria should the Federal Government succeeds in its devious plan.
"Furthermore, we are also aware that President Buhari was not by any measure prepared to drop her from his cabinet but for the demand by those responsible for her appointment, who protested her continued stay in office, although for their own selfish gains. A case of corruption fighting back!
"The PDP, therefore, demands an immediate open inquest into the records of the Finance Ministry under Mrs. Adeosun, to unravel all improprieties by the Buhari Presidency cabal, including alleged diversion of oil proceeds, fraudulent oil subsidy deals, leading to high fuel price; depletion of our foreign reserves, embezzling of funds returned by Switzerland and other huge sleazes in the ministry.
"The party also insists that President Buhari must be held responsible for all infractions in the finance ministry under Adeosun, as he appointed and retained her despite having information on the certificate forgery; a situation that confirms the decadence and lack of due diligence in the Buhari Presidency."
Kemi Adeosun has revealed how her trusted associates put her in fake NYSC certificate saga in a resignation letter which she tendered to President Muhammadu Buhari.