Former Governor Martin Elechi Defects to APC From PDP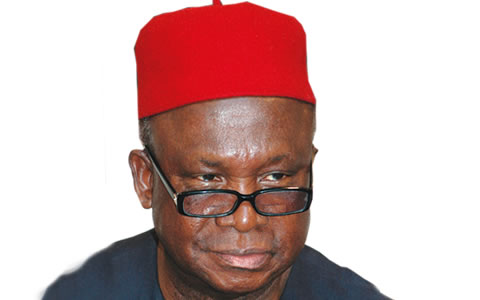 The immediate past governor of Ebonyi, Chief Martin Elechi, has defected to the All Progressive Congress (APC) from the People's Democratic Party (PDP).
---
Elechi, a two time governor of Ebony, registered for the APC at his country home in Echialike, Ikwo Local Government Area, in front of national party leaders.
The party leaders were in Abakaliki, the Ebonyi capital, for a thanksgiving church service for the recovery of President Muhammadu Buhari from his ill-health, after which they moved to Ikwo.
According to Elechi, he decided to join APC due to his love for Buhari and the current state of the PDP occasioned by its protracted crisis.
"I knew Buhari 49 years ago when I started the movement for the creation of Ebonyi as he intervened during my arrest with nine other comrades, by officers of the defunct Nigerian Security Organisation (NSO).
"I was interrogated while standing for nine hours and he as the Brigade Major in Abakaliki at that time, ordered our immediate release.
"I thank God for his health as he had favoured the people of Abakaliki and will triumph in his onerous task of rescuing the country from misrule.''
Boko Haram and corruption issues could have been indescribable if God had not brought Buhari to power, he said.
The former governor said that he was proud of the PDP due to the democratic ideals of its founding fathers, but its present leaders have truncated the ideal.
"I was elected governor on two occasions under its platform as it used to be the pride of Africa, but was suddenly ravaged by self-inflicted crises and afflictions.
"In 1983 when I was the Secretary of the National Party of Nigeria (NPN) in the old Anambra, the budget for the national elections in Anambra and Imo, now South East zone, was N170,000.
"In 2015, however, the budget for my impeachment was N3 billion and this was followed by the distortion and malpractice recorded in the primaries and congresses to elect the PDP candidates.''
He described the APC as the alternative for Ebonyi people and the Igbo race and thanked the party for offering him and his supporters, a political platform to identify with.
"Three years ago, I would have attacked anyone who said Ebonyi belongs to APC, but currently, me identify with PDP–God forbid," he said.
Dr Ogbonnia Onu, Minister of Science and Technology, thanked Elechi for the decision and noted that President Buhari will be pleased to receive the news.
"What you did today will never be forgotten in the history of the state as we all should support President Buhari to actualise all his objectives for Nigeria.
Elechi was the leader of the campaign team when Onu contested Ebonyi governorship in 1999, on the platform of All Peoples Party (APP).
Alhaji Kasheem Imam, APC National Leader called on the Igbos to identify with the APC.
Mr Emma Enukwu, the APC South East Zonal Vice Chairman, noted that he was in the state on the orders of the National Chairman, Chief John Oyegun to ensure that Elechi registers with the party.
(NAN)