The National Emergency Management Agency (NEMA) of Nigeria has reaffirmed its commitment to collaboration and resilience building in addressing emergencies by reconvening the National Emergency Coordination Forum (ECF).
This forum brings together various stakeholders, including government agencies, international organizations, and United Nations systems to enhance emergency management efforts.
At the ECF meeting held in Abuja on August 10, 2023, the Director General of NEMA, Mustapha Habib Ahmed, stressed the importance of collaboration in managing emergencies.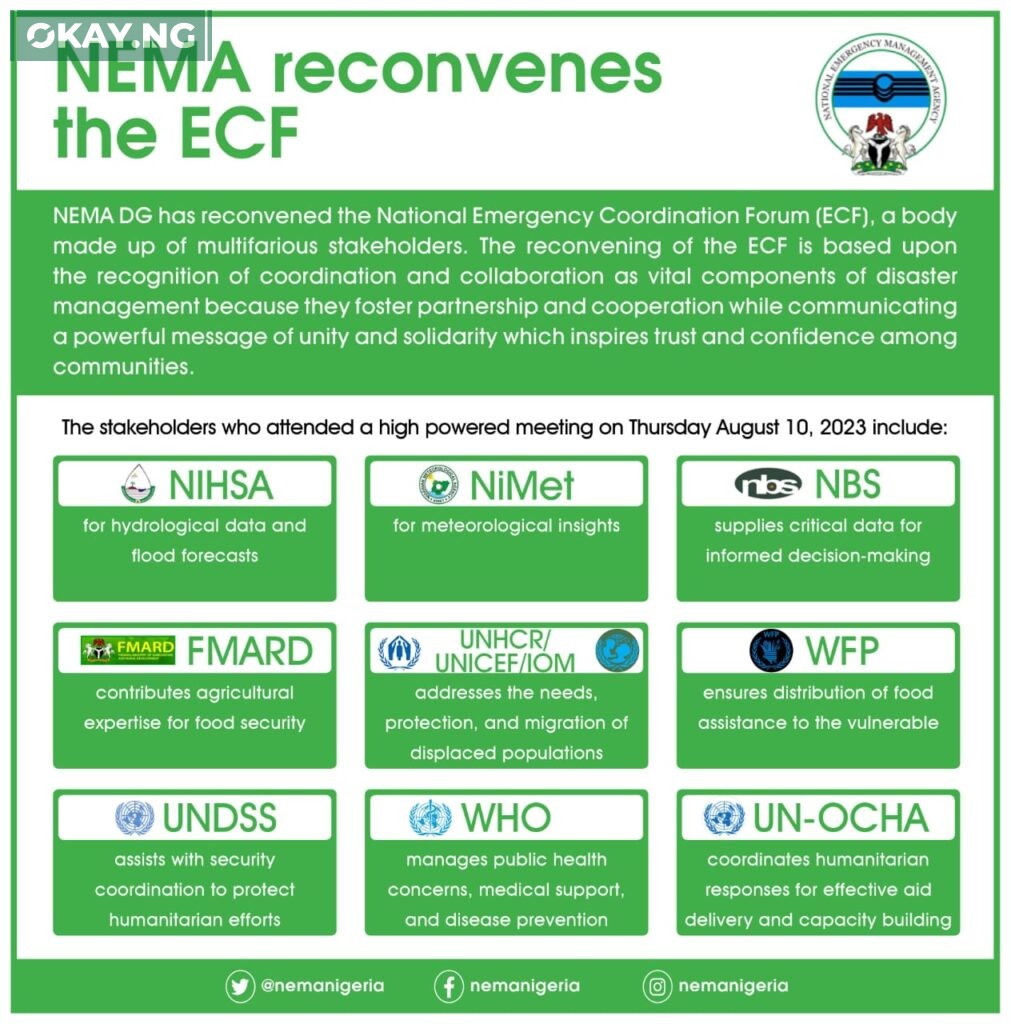 He emphasized the interconnectedness of various emergencies faced by Nigeria, including insurgency, banditry, communal conflicts, and flood disasters, and highlighted the need for harmonized efforts among humanitarian agencies to build disaster resilience and respond effectively.
Ahmed drew attention to the disastrous flooding experienced in 2022, which resulted in loss of lives, displacement, and damage to communities.
He outlined ongoing proactive measures aimed at mitigating the effects of flooding in 2023.
These measures include the production and dissemination of Climate-Related Disaster Preparedness and Mitigation Strategies based on seasonal climate predictions and annual flood outlook reports.
NEMA also plans to provide support under the Special National Economic and Livelihood Emergency Intervention (SNELEI) to affected people in internally displaced persons (IDP) camps and host communities.
The DG NEMA mentioned that states impacted by the 2022 flood are already receiving support through SNELEI.
The intervention includes the distribution of food and non-food items, as well as agricultural inputs, to help affected individuals recover and build their resilience.
Mustapha Habib Ahmed emphasized the importance of supporting local emergency management committees to take ownership of their responsibility for disaster preparedness, mitigation, response, and recovery.
He stated that effective disaster risk management needs to be carried out at the local level with adequate capacity building, funding, and equipment.