The Nigerian Communications Commission (NCC) has granted approval for the transfer of a 10MHz spectrum in the 2.6GHz spectrum band from OPENSKYS Services Limited (OS) to MTN Nigeria.
MTN, a leading telecommunications giant in the country, welcomed the approval, which came into effect on September 7, 2023.
The transfer of this spectrum is poised to significantly improve broadband services across Nigeria.
The 2.6GHz spectrum band is designated for terrestrial mobile broadband services, making it a valuable asset in expanding connectivity nationwide.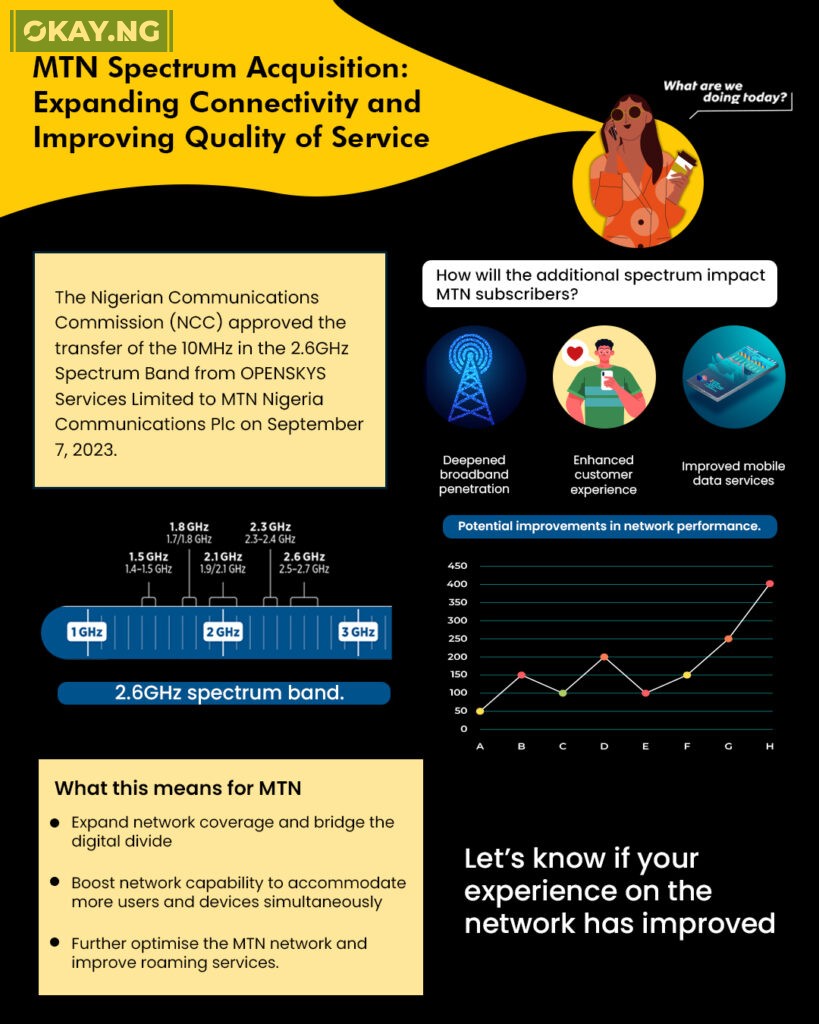 This spectrum band, in conjunction with the 700MHz-800MHz spectrum bands, offers a cost-effective solution for delivering mobile broadband services across both urban and rural areas, according to a GSMA report on global mobile broadband opportunities.
As of December 2022, broadband penetration in Nigeria stood at 47.36 percent. To achieve the Federal Government of Nigeria's ambitious target of 70 percent broadband penetration by 2025, the acquisition of additional spectrum becomes paramount.
MTN Nigeria's acquisition of this spectrum positions the company to meet the growing demand for capacity to provide widespread, high-quality mobile broadband services across the nation.
MTN expressed its commitment to delivering excellent service through this spectrum transfer, emphasizing its dedication to improving the customer experience.
Moreover, this acquisition empowers MTN to deploy advanced broadband technologies, further contributing to Nigeria's broadband objectives.
Karl Toriola, Chief Executive Officer of MTN Nigeria, commented on the acquisition, stating, "This additional spectrum will enable us to deliver on our promise to our customers to deliver quality service, as we continue to support the Federal Government's vision of deepening broadband penetration in the country."
A report by the GSMA underscores the significance of increased broadband penetration, particularly in developing nations, as it directly correlates with higher Gross Domestic Product (GDP).
This correlation highlights the importance of ongoing development and investment in broadband infrastructure, such as the 2.6GHz spectrum band, as a means of fostering economic growth and technological advancement in Nigeria.