A 2 year old boy simply identified as Zion has been rescued from evil hands of his father and step-mother.
The young boy is being starved, beaten and maltreated by the couple.
His plight was brought to social media by a lady named Kwin Oge who called on concerned authorities to rescue the boy.
A popular activist, Gwanshinu interfere in the case and the young boy was rescued.
He took to his Facebook to reveal that the boy was rescued and he's currently in the hospital while his father has been arrested.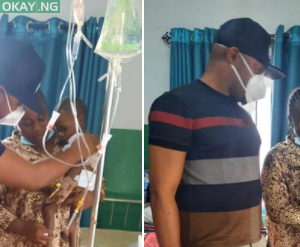 He wrote:
"2-YEAR OLD #SaveZINO RESCUED IN WARRI.

You called and we responded swiftly despite health challenges.

TEST CARRIED OUT

> HIV > NEGATIVE

> BLOOD: 30%

> SUGAR LEVEL> 68

> MALARIA > 1

He's malnourished and currently on admission. Father arrested and detained at B Division Warri.

Abuse and neglect hit kids hard and abused children are in no shape to defend their rights. Behind Bars and other passionate Nigerians are always here to stand in the gap and represent their interest."he wrote