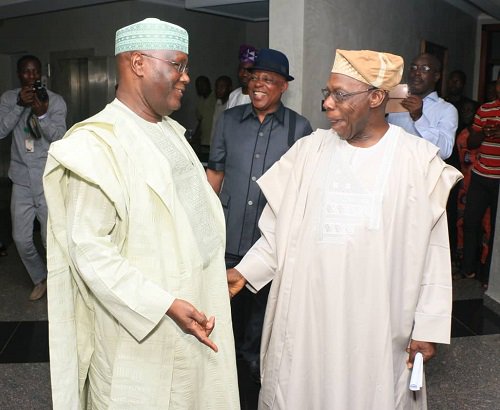 Former President Olusegun Obasanjo has revealed why he decided to join forces with his former vice president  Atiku Abubakar and bury the hatchet permanently.
Atiku Abubakar served under Obasanjo as vice president of Nigeria from 1999 – 2007.
There was a fallout between both former allies midway into their second term in office with speculations that the rift had been caused by Obasanjo's third term ambition.
okay.ng recalls that Obasanjo endorsed Atiku as preferred candidate for President In 2019.
During that endorsement, Obasanjo gave a speech where he poured out his mind in his usual manner and gave reasons why he decided to bury the hatchet and endorse his former vice president.
Read the full text of Obasanjo's speech below;
"I am happy to welcome the distinguished leaders of goodwill who have led the PDP Presidential Candidate and my former Vice-President, Atiku Abubakar, to my humble abode and I welcome the Presidential Candidate himself.
Let me start by congratulating President-to-be, Atiku Abubakar, for his success at the recent PDP Primary and I took note of his gracious remarks in his acceptance speech that it all started here.
Yes, when it started, it was meant for Atiku to succeed Obasanjo. In the presence of these distinguished leaders of goodwill today, let me say it openly that we have reviewed what went wrong on the side of Atiku. And in all honesty, my former Vice-President has re-discovered and re-positioned himself. As I have repeatedly said, it is not so much what you did against me that was the issue but what you did against the Party, the Government and the country.
I took the stand I had taken based on the character and attributes you exhibited in the position you found yourself. I strongly believe that I was right. It was in the overall interest of everyone and everything to take such a position.
From what transpired in the last couple of hours or so, you have shown remorse; you have asked for forgiveness and you have indicated that you have learnt some good lessons and you will mend fences and make amends as necessary and as desirable.
Whenever or wherever you might have offended me, as a Christian who asks for God's forgiveness of my sins and inadequacies on daily basis, I forgive and I sincerely advise you to learn from the past and do what is right and it will be well with you. Obviously, you have mended fences with the Party and fully reconciled with the Party. That's why today, you are the Presidential Candidate of the Party. In addition to appreciating all that the Party has done for you, may I advise you to work together with all those who contested for the Party's flag with you as a team for your campaign.
Read More News HERE