SIFAX Logistics Company Limited, a subsidiary of SIFAX Group, has taken a significant step to enhance its operations by acquiring 13 new trucks.
These brand new additions, 33 tons 6×4 MAN diesel vehicles with 400 horsepower, will fortify the company's capacity to excel in long-distance and interstate deliveries.
This strategic move is expected to bolster the company's market share and competitive edge in the logistics sector.
The latest acquisition has expanded SIFAX Logistics Company's fleet to a total of 114 trucks.
According to Adewale Adetayo, General Manager of SIFAX Logistics Company Limited, the decision to procure these new trucks was prompted by a notable surge in demand for the company's haulage services throughout the country.
He said: "In order to maintain our market dominance and expansion to various new routes within the country, management decided to embark on the purchase of these new trucks. Our target is to expand rapidly and we have mapped out a strategic plan to acquire 200 new trucks before the end of the 2024 business year. This will be done in phases and we have started with 13 for now. We hope to buy another 20 in the next phase of our acquisition plan."
Speaking on the brand of trucks purchased, Adetayo said the company went for the MAN diesel brand, which is a German product, because of its high rating in the logistics ecosystem, durability, load-bearing capability, driving stability and adaptability. 
Dr. Taiwo Afolabi, Chairman of SIFAX Group, highlighted the company's commitment to investing in the Nigerian economy even during challenging times.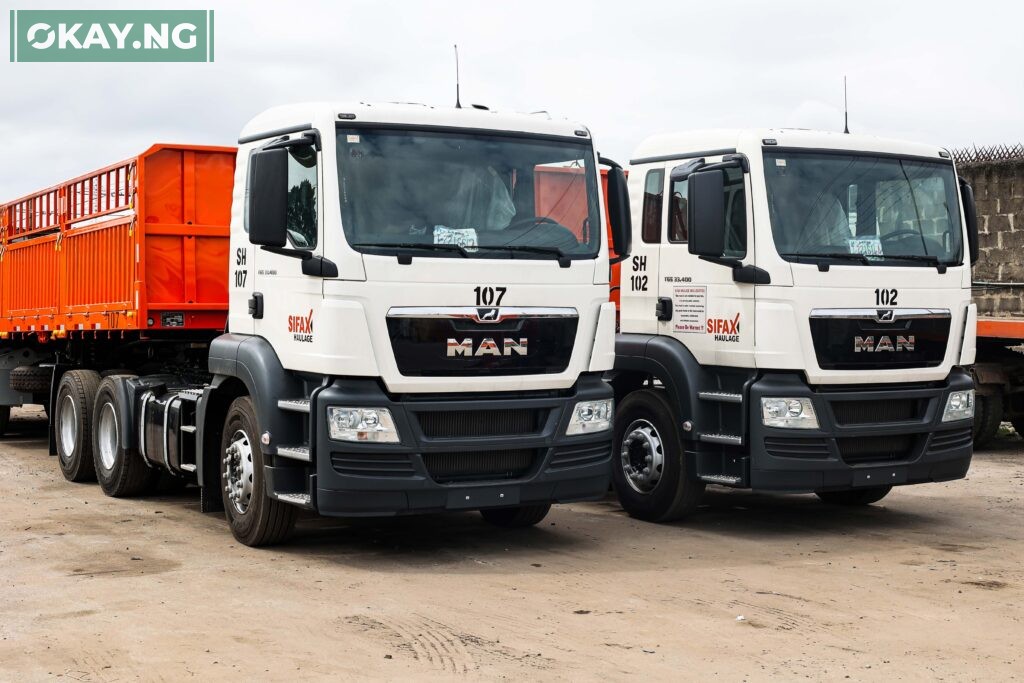 "We are aware many businesses are not favourably disposed to investing at this moment due to the prevailing economic reality. But the reality is that some economic activities like production and movement of goods will almost always demand for haulage services even in challenging times. We are scaling up through the acquisition of these trucks because of the huge potential in the industry.
"The economic outlook for the country is looking bright and we know that once the economy bounces back, we would reap the rewards of our investments. Many businesses, both existing and potential clients, continue to reach out to us due to the credibility and efficiency we have achieved over the years. To meet these agreements, we need a larger fleet", he noted.