News
Security Operatives Arrest 125 MASSOB Members In Anambra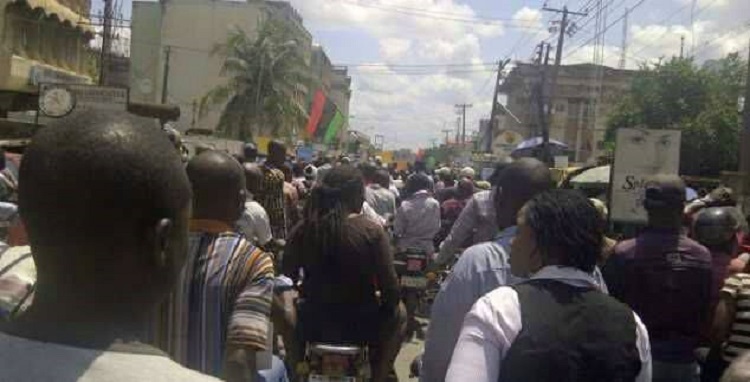 Security operatives on Thursday arrested no fewer than 125 members of the Movement for the Actualisation of the Sovereign State of Biafra (MASSOB) during a rally to mark the 19th anniversary celebration of the organization in Anambra.
Many other members of the organisation sustained injury in the fracas that ensued.
Security personnel from the Nigerian Army, Police, Department of State Services and Civil Defense stormed the venue of the rally at Ifitedunu in Dunukofia Local Government Area of the state at about 12noon to carry out the arrest.
No death was recorded, however, Arinze Igbani, a member of the Biafra Elders' Council claimed in an interview with newsmen that many of his members sustained various degrees of injuries as a result of the alleged assault and subsequent arrest by the security operatives.
According to him, three bus-load of MASSOB members, including Gen. Innocent Ejioforbiri, the General of Biafra veterans, Anambra South zone and other Biafra war veterans some of whom are octogenarians, were arrested by the security operatives while returning home from similar celebrations at Uga in Aguata Local Government Area of the state.
He also claimed that two other buses were destroyed by the security operatives during the raid.
"Today, Anambra state and the Federal Government collaborated to molest Ndigbo who came out to celebrate non-violently, the 19th anniversary of MASSOB.
"This is in spite of the fact that MASSOB/BIM gave huge support for the conduct of governorship elections in the state as against the positions of some elements in 2017.
"The MASSOB/BIM are giving the Federal Government and the state
Government one week to unconditionally release innocent people who came out to celebrate peacefully. If government fail to release them unconditionally within one week, we will organize heavy protest that will shut down the state.
"There is no place in the law anywhere in the world that states that people should not celebrate," he said.
The MASSOB leader urged members of the organization to remain calm and peaceful while they await the response of government to its demand.
He also called on the international communities to come to its rescue and support its call for the realization of Biafra.
MASSOB was inaugurated by Ralph Uwazuruike on Sept. 13, 1999 to further press home the demand for the actualization of Biafra.