Olubadan Replies Ibadan Kings Who Threatened to Dethrone Him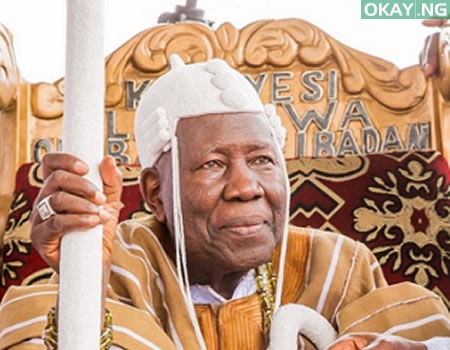 The Olubadan, Oba Saliu Akanmu Adetunji, has described the 21 Ibadan kings who have threatened to dethrone him as entertainers of 2017.
The monarch emphatically said the kings lacked the powers to dethrone him.
The 21 Obas (kings), who were installed on 27 August, 2017, by Governor Abiola Ajimobi of Oyo state, on Monday issued a 21-day ultimatum to the Lord of of Ibadan to vacate the throne.
They accused the Olubadan of taking unilateral decisions on behalf of the 'Olubadan-Kings-in-Council' and inciting the people against the state government.
Recall that Ajimobi and the Olubadan have been at loggerheads over the governor's enthronement of the 21 Obas.
The Olubadan had sued the governor on the grounds that the crowning of the kings was illegal.
And reacting to the threat by the Obas, the monarch said the Oba-in-Council was unknown to Oyo state Chieftaincy Laws.
The traditional ruler, who spoke through his media aide, Adeola Oloko, wondered why the Obas resorted to a matter already in court.
"In the same vein, the baales, who the embattled high chiefs have added to themselves to become 21, are not members of Olubadan-in-Council and, therefore, should not be dressed in borrowed robe as they have no power whatsoever over their lord," Oloko said in a statement.