"City's struggles this year have certainly put Manuel Pellegrini's achievements in perspective." – Giggs
"The consensus was that he had done quite well with the players at his disposal." – Giggs added
---
Manchester United legend Ryan Giggs says Manchester City's squad is too old and that Pep Guardiola's struggles show how good Manuel Pellegrini was.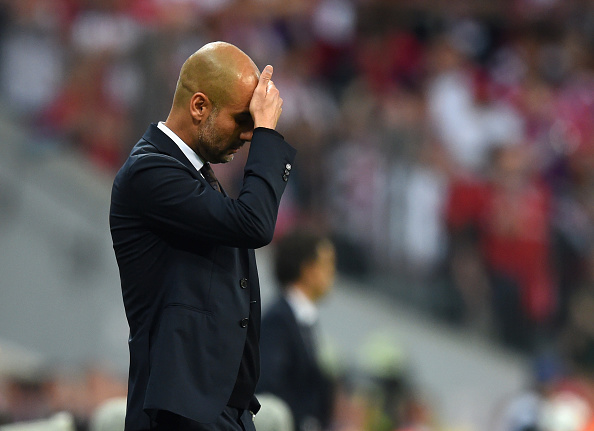 Guardiola

(Getty Images)
---
The United legend in his write up in the Telegraph highlighted the average age of the Etihad club as a reason why they sit outside the top four.
The Welshman who spent his entire playing career at Old Trafford says the Sapniard's woes since taking over from Manuel Pellegrini shows how under-appreciated the Chilean was.
"City's struggles this year have certainly put Manuel Pellegrini's achievements in perspective.
"Watching from the other side of Manchester, we were often surprised at the stick that Pellegrini would get, chiefly because he was reluctant to change his formation.
"The consensus was that he had done quite well with the players at his disposal." said Giggs
Giggs who believes that Guardiola started the season with an ageing squad said: "When you have played in the Premier League for a long time, you get a feeling for the stage in life that a collective of players is at – who is peaking, who is declining, who is on the up – and I got a strong sense that City's squad were too old.
"The statistics tell us that their first XIs this season average 28 years and 299 days – only three clubs come out older in that category: Stoke, West Bromwich Albion and Watford, who at 29 years and 326 days are the oldest.
"To put that in perspective, Tottenham Hotspur, City's opponents today, are the youngest – their first XIs this season average 25 years and 266 days.
"City still have some fine players, and some of those fine players are their older players, but the number who you would put in that older category is always going to have a cumulative effect on the performance of the team.
"David Silva, Yaya Touré, Vincent Kompany, Bacary Sagna, Pablo Zabaleta and Aleksandar Kolarov are all coming towards the end of their careers. You can make a case for them all individually, but together the picture changes."