"I told him to give Arsenal the priority. It's true it was special denouement. Until the end he didn't know what he'll do" – Giroud said
"It's good for him. I think it was quite a long month for him so it's good that something could have happened even in the very last moments. It's great for him." – Giroud
---
In a desperate attempt to increase his goals tally for Arsenal, Olivier Giroud has revealed that he begged France teammate Moussa Sissoko to move to the Emirates but instead he joined North London rivals Tottenham Hotspur.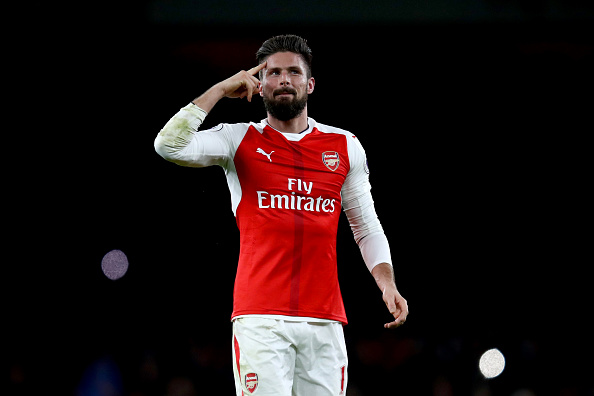 Giroud

(Getty Images)
---
The 27-year-old had an outstanding summer as he was one of the stand-out players at the Euro 2016 where the Les Bleus finished second behind Portugal and attracted a host of clubs.
Sissoko was first rumoured to be on his way to Real Madrid but nothing came out of that but on the transfer deadline day, a mild drama ensued as he was in his way to Goodison for medicals with Everton but changed his mind and zoomed off to White Hart Lane to sign for Spurs despite Giroud's best attempts to get him to consider the Gunners.
"I told him to give Arsenal the priority. It's true it was special denouement. Until the end he didn't know what he'll do," Giroud said.
"It's good for him. I think it was quite a long month for him so it's good that something could have happened even in the very last moments. It's great for him.
"Tottenham is a great team in our league. Obviously we all wanted for him after his good Euro and great performances, that he joins a premier League club. In the Premier League Tottenham are an opponent for the trophy this year.
I hope he will not be in good conditions against us."
Giroud also spoke of his excitement ahead of the clash with Paris Saint-Germain in the Champions League and that he hopes to regain a first-team place in Arsene Wenger's team.
The 29-year-old is yet to score this season but he is not short of confidence."If I am underestimated, I'm not sure but I started the season on the bench because I came back from holidays the ninth of August. I wasn't in the group for the first game. For the second game I came in with only two days of training in the legs.
It seems then a logical choice," he added."For the last game I should have come in but a player got injured so I didn't and that's it. After two weeks of preparation a player cannot be ready. That's why I started on the pitch.
"Gradually I hope to play more and find my fitness back. Like the last season as easy as that. It's just a question of preparation I'm not more worried than that."