Big Bolaji has joined the Babztopp homes and properties 'Operation Sack Your Landlord' movement.
A couple of days ago, Bolaji Olarewaju, the brain behind turn it up koncepstz, well known by his stage name as – Big Bolaji took his Instagram to announce the news of joining the genuine Land and Property developer.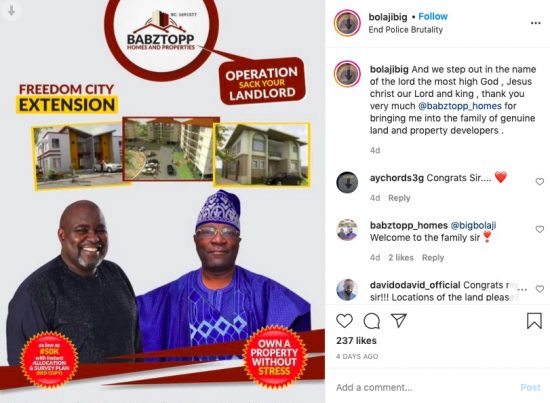 In his caption:
And we step out in the name of the lord the most high God, Jesus Christ our Lord and king, thank you very much @babztopp_homes for bringing me into the family of genuine land and property developers.
Babztopp Homes & Properties has been known for their sincerity in the Land and property industry, they have decided to share the good news of their great offers that can benefit you and your household, it's called 'Operation Sack Your Landlord'.
Listed below are available offers:
Phase 1: Legacy Park
Location: Ido local government along eruwa road
Price:500k
Phase 2: Freedom city phase 1
Location: First terminal bridge new Railway Moniya
Price: One million
Phase 2 extension: Freedom city phase 2 extension
Location: Ajibode extension opposite new Railway line Ibadan
Price: 500k
Phase 3: Metro Garden
Location: Alabata along iseyin road Moniya ibadan
Price: 400,000
Phase 4: VIP Royal Gate
Location: Akingbile opposite iita lagbe
Price: 700,000
All of these offers are for instant allocation alongside a red copy survey plan. Feel free to reach out to them via Whatsapp 08130656499 or 08140719182.