News
Zamfara monarchs publish names of innocent people killed in NAF air strikes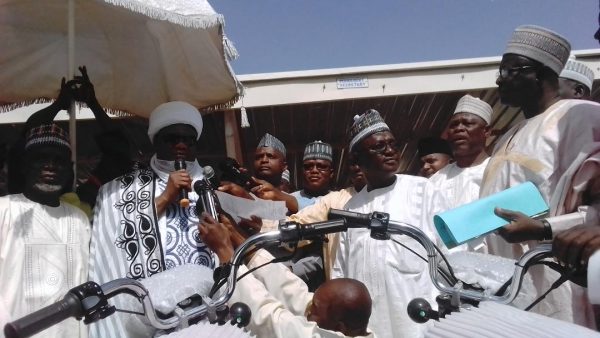 The Emirs in Zamfara state have released names of civilians killed by Nigeria Air Force (NAF) air strikes during their bombardment of armed bandits hideouts in the state.
Okay Nigeria reports a week ago that the Zamfara State Council of Chiefs raised an alarm over the killing of innocent civilians by NAF air strikes meant to hit hideouts of armed bandits terrorising the state.
However, responded to the claim by the Emirs, NAF denied targeting innocent civilians during their airstrikes.
Meanhwhile, the Zamfara State Council of Chiefs addressing newsmen on Wednesday provided names of those killed and injured in the air strikes.
Hassan Attahiru, Emir of Bungudu, who represented the chiefs, named Mai Daji Barau, Na Dumburum, Suwaiba Alka, Yar Guru Na Dumburum, Maryam Shafiu, Dahe Malan Sule, Buhari Dan Kurma, Zaliha na Dumburum, Aisha Akilu, Alamin Alka and Fati 'Yar Gum as civilians who were killed.
Providing names of those that were injured he mentioned Haruna Kusu, Muhammad M Sani, AbdulRazak Abubakar, Yakubu Yunusa, Dan Diyya, Sa'a Dayyabu, Yar'wargi Mamman, Gwamna na Dumburum, Rashida Alka, Maryam Akilu and Sadiq Sukuranu.
Also reacting on reports that the Emirs are not helping matters on the situation in the state, he lamented:
"We had a meeting with the Executive Governor and we provided secret information on the suspected armed bandits, kidnappers and their informants and even those doing business with them.

"We suggested that civilian joint task force members should be recruited. How comes that somebody would just come out and say we have not been helping matters?"
The monarch then continued:
"The crimes transformed from local to more organised ones. The police were earlier deployed and later the military too was deployed. Why is there no respite despite the presence of the military? The soldiers deployed sometimes pay us a visit in the course of their operations.

"is wrong for the military command to, for instance, deploy only 30 soldiers and ask them to engage hundreds of armed criminals in a forest. That is why sometimes they get killed by these criminals. If NAF do their reconnaissance and dislodge the criminals from their camps, the ground troops should occupy the identified bases of the armed criminals.

"Even the attack on Tsanu village by the military, it was innocent civilians that were killed. We can provide documented evidence, but we don't want to join issues with security operatives."
The NAF have agreed to investigate the names released by the Zamfara State Council of Chiefs.