News
Woman Inserts Pepper & Hot Metal In Vagina Of 5-year Old Niece For Eating Her Child's Food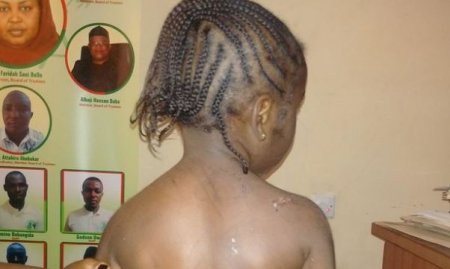 A five-year-old girl remains hospitalised Omu Ijelu Ekiti, in Oye council area of Ekiti, after her aunt inserted heated metal into her vagina for sharing her daughter's food.
The woman, Esther Agbundu, a native of Gwer council area of Benue, had earlier sprayed pepper on her niece's private parts, after beating her up in an incident that's drawn condemnation.
The Justice, Development and Peace Commission in Ekiti has petitioned the National Human Rights Commission giving details of the incident.
On November 26, the five-year-old babysitting her aunt's child, an while feeding the child, she ate a spoonful of the baby's food.
"This annoyed the respondent so much that she inserted pepper in her private parts," the petition said.
"The respondent further put a knife in the fire and inserted the hot knife in the victim's private part, and equally impressed the hot knife on the outer part of her private part. Still not satisfied, she was beaten mercilessly and urged not to cry aloud."
JDPI has investigated the report and said, "The Elejelu of Ijelu-Ekiti confirmed the report and further informed us that he has notified the Divisional Police Officer of Ilupeju-Ekiti of the incident and the latter sent officers to arrest the respondent a day after the incident was reported at the palace.
"The monarch confirmed also that the victim was at the night of the incident rushed to the Ijelu-Ekiti health centre for medical care."
According to the JDPI director, "we took further step of visiting the health centre for verification and questioning", and further explained that the officials of the centre as well as the relatives of the victim all confirmed the incident.
The JDPI lamented that the five-year-old had been a victim of "frequent inhuman and degrading treatments," saying "we took a closer look at the victim to confirm the incidence of maltreatment, child abuse and molestation."
JDPI also alleged that Abgundu "was released barely few hours after her arrest and boastfully roams the streets of Ijelu-Ekiti freely and in peace as if nothing happend while the victim is neither able to walk nor sit well and still groans in much pains and discomfort."
Describing the incidence as a "case of inhuman treatment, gross disregard to human life" the JDPI added that the action was also a flagrant abuse of her human rights as enshrined in Chapter 4 of the Constitution of the Federal Republic of Nigeria 199, as amended."
It called on the NHRC to intervene in the "matter of cruelty against the victim by ensuring that the respondent is brought to book to serve as deterrent to whoever still engages in acts of inhuman and degrading treatment of others, especially children."