News
Udom Presents N671bn Budget for 2019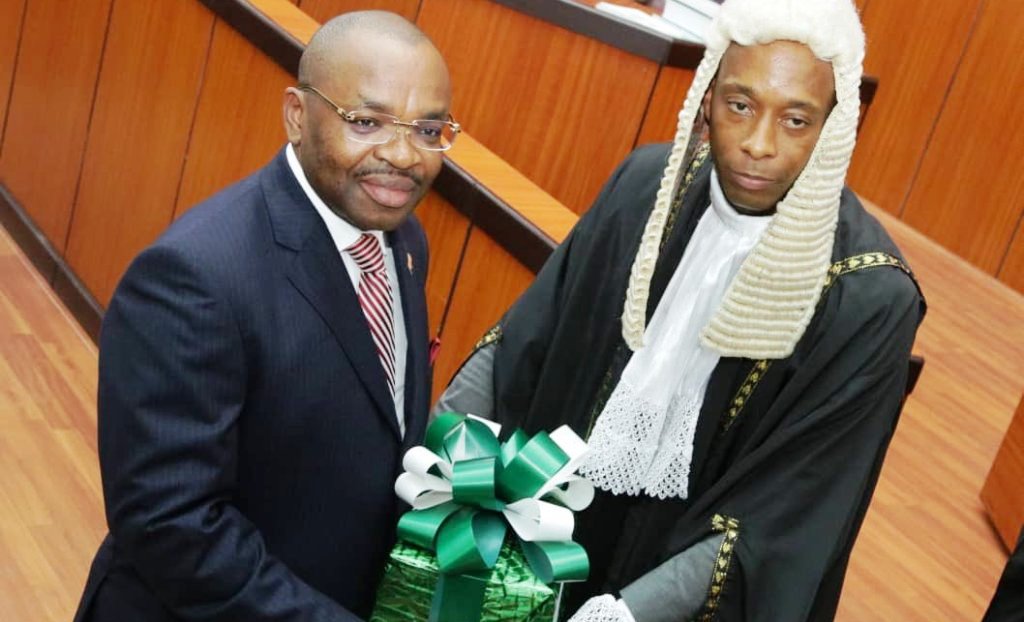 Governor Udom Emmanuel has proposed a total budgetary outlay of N670.718 billion for the 2019 financial year for Akwa Ibom state as against the approved provision of N646.649 billion of 2018.
Governor Udom presented the budget proposal before the Akwa Ibom State House of Assembly on Wednesday with recurrent expenditure at N97.096 billion, capital expenditure at N445.936 billion and consolidated revenue fund charges at N127.686 billion.
"In 2019, government intends to build more industries and attract more Foreign Direct Investments, while ensuring the consolidation and sustenance in our already actualized and on-going socio-economic programmes in Health, Education, Roads, Electricity, Water Supply, Agriculture, Information Technology, Capacity Building, Infrastructure, Housing, Commerce and Industry Aviation, General Administration, Political Posterity and Security, Legislature and Judiciary.
"A lot had been put in place in term of infrastructures already, but we need to do more. Our belief and conviction is that through industrialization, the fortunes of people would be greatly improved and employment opportunities will abound for our people thus, lifting the standard of living," the Governor said during his presentation.
The 2019 budget was christened the Budget of Industrialization for Poverty Alleviation and the 2018 Budget was named Budget of Consolidation on industrialization.
"It was so named as the State had started witnessing a breakthrough in industrialization through the construction and commissioning of some industries that are currently in full operations. We also attracted more Foreign Direct Investments, boosted the fortunes of our people and improved employment opportunities," Udom said.
He said his administration is encapsulated by the five-point agenda of job creation, poverty alleviation, wealth creation, economic and political inclusion, and infrastructural consolidation and expansion to further transform the state into an industrialized entity.
He further stated that the 2019 Budget is prepared in accordance with International Public Sector Accounting Standard (IPSAS) – Accrual Template.
"The Policy thrust of the 2019 Budget is aimed at reducing dependence on statutory allocation as the main source of revenue to the State. This will be pursued by establishing more industries, improving IGR and providing the enabling environment which will encourage private investments in the State.