News
Police Arrest Nine Shi'ite Members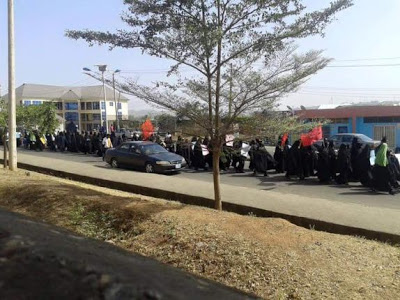 The FCT police command has arrested nine people suspected to be members of a Shi'ite group, Islamic Movement of Nigeria (IMN), during a protest in Abuja on Wednesday.
Shiite
---
The protesters, who marched to the Three Arms Zone in Abuja, were demanding the release of their spiritual leader, Sheikh Ibraheem El-Zakzaky.
El- Zarzaky is currently being detained by the government following last year's clash between the Shi'ite and the Nigerian Army in Zaria, Kaduna.
Confirming the arrest on the telephone Wednesday, the FCT Police spokesman, Anjuguri Manzah, said the nine Shi'ite members have been transferred to the command's Criminal Investigations Department for organizing violent and unlawful protests in the city.
Manzah added that the group did not notify or get a police permit before embarking on the protest.
He said the leaders of the protesters will be charged to court for unlawful assembly.
"We arrested nine people based on their conduct and the fact that they were not peaceful in their protest. The command was not notified about the protest
"Nine of them were arrested and they will be charged to court soon for unlawful conduct," the police spokesman said.