Ekiti State Governor, Ayo Fayose has described former President Olusegun Obasanjo as grandfather of corruption in Nigeria who sits on stolen wealth.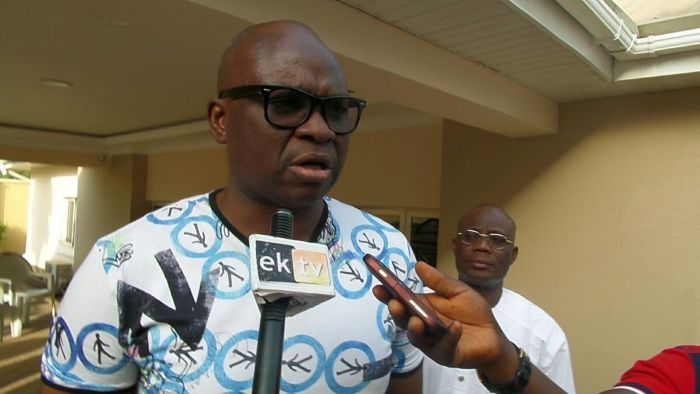 Ekiti State Governor, Ayo Fayose
---
The Governor challenged Obasanjo to explain to Nigerians his source of "stupendous wealth". Fayose in a statement on Thursday by his Special Assistant on Public Communication and New Media, Lere Olayinka, said, "It smacked of the highest level of hypocrisy for someone like Obasanjo to be sermonizing about corruption, having superintended over a corrupt government himself.
"The former President must come out clean on his roles in the controversial $1.09 billion Malabu Oil deal, instead of warning former Attorney-General of the Federation (AGF) and Minister of Justice Mohammed Adoke to stop mentioning his name in the deal.
"It is on record that the out-of-court settlement on the controversial Malabu Oil Block was initiated in 2006 during Obasanjo's administration. Obasanjo's accusing anyone of corruption was like "Oyenusi accusing Shina Rambo of armed robbery.
"I challenge the former President to explain to Nigerians the source of his stupendous wealth. We saw how Obasanjo was when he became president and the magnitude of both direct and indirect investments that he has now. Can he in all honesty tell Nigerians that he acquired his wealth through legitimate means?
"Even the National Assembly affirmed him (Obasanjo) as the grandfather of corruption in Nigeria and it is on record that it was this same Obasanjo, who is always claiming holier than thou that introduced politics of ghana-must-go bags to the National Assembly.
"Has Obasanjo forgotten how many billions of naira was deployed to lobby National Assembly members to support his third term agenda?"
"Has he forgotten so soon that it was during his tenure that sacks of money were displayed on the floor of the House of Representatives, as bribe money given to some Reps members to impeach the then Speaker, Ghali N'abba?
"I reiterate my demand that the former President should refund with interest, the N10 million that I was forced alongside other governors to donate to his Presidential Library project.
"Someone like Obasanjo, who used his position as President to extort money from governors, businessmen and contractors to build his presidential library lacked moral rights to accuse anyone of corruption."
"Other Nigerians who left offices as President are still relevant to their people, but can the same be said about Obasanjo? Was he useful to the Yoruba race as President and now as former President?
"The bad state that he left major roads linking the Southwest to other zones in Nigeria, especially the Lagos-Ibadan expressway remains a pointer to this. Yet, he goes about postulating as if he is the only honest Nigerians who can make things right in the country."