In a heartwarming event that underscored the importance of nurturing digital literacy and innovation among the youth, Kashifu Inuwa CCIE, the Director General of the National Information Technology Development Agency (NITDA), reaffirmed the agency's unwavering commitment to empowering young minds to shape Nigeria's future through technology.
The occasion was the closing ceremony of the NITDA STEM Bootcamp for Kids, a collaborative effort between the agency and the Future Map Foundation.
This initiative brought together enthusiastic students aged 12 to 16 from various schools across Jigawa State.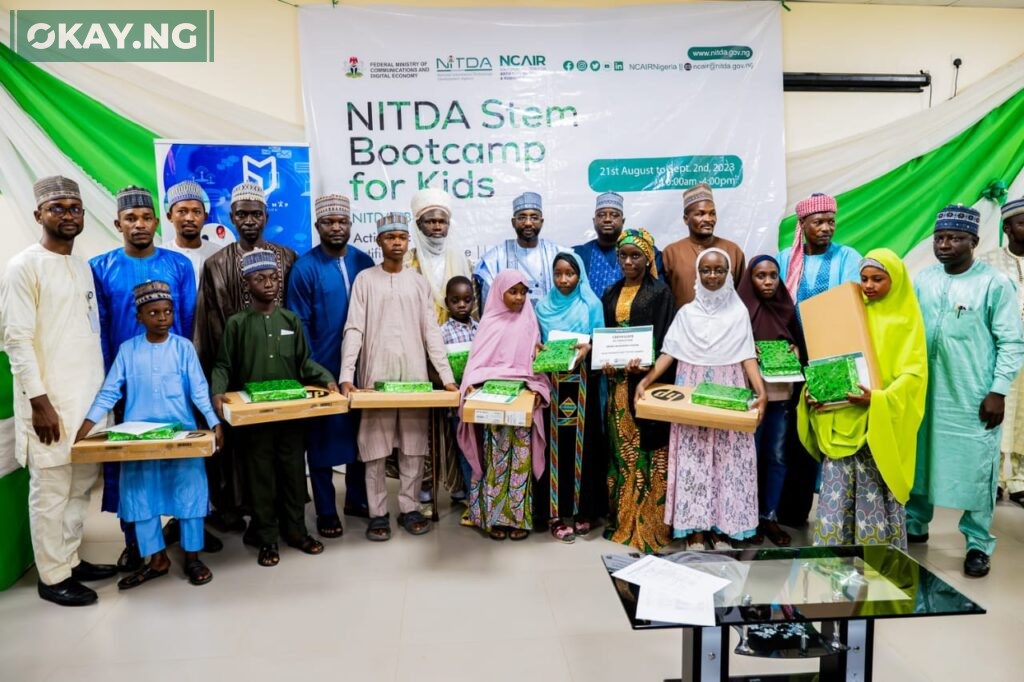 The 10-day training program, held concurrently in Rivers, Jigawa, and the Federal Capital Territory, aimed to cultivate children's interest in Science, Technology, Engineering, and Mathematics (STEM) disciplines while exposing them to the boundless possibilities that digital technology offers.
Kashifu Inuwa acknowledged the pivotal role of STEM in today's world, emphasizing that technology has become the driving force behind global innovation and economic growth.
He stressed the urgency for young Nigerians to embrace digital literacy as a means to secure a prosperous future.
"Today, the world is driven by technology, and those who possess the knowledge and skills to harness it will lead the way. Nigeria has an abundance of talent, and by investing in STEM education from an early age, we can unlock our country's potential and compete on the global stage," stated Inuwa.
In a motivating address, the Director General shared personal anecdotes and insights from his own journey as a technology enthusiast who eventually rose to lead a prominent IT agency.
He encouraged the young students to dream big and take full advantage of the digital resources at their disposal.
"I started as a young enthusiast like you, with a passion for technology. I became a millionaire while doing my mandatory youth service. Today, I have the privilege to lead NITDA, an agency dedicated to shaping the nation's digital future. The power of technology is in your hands, and I implore you to explore it to the fullest," he declared.
In line with NITDA's commitment to fostering creativity, innovation, and problem-solving skills, the STEM Bootcamp provided a range of hands-on activities and workshops.
Students had the opportunity to delve into robotics, coding, and virtual reality, igniting their curiosity and interest in the world of technology.
Simultaneously, at the STEM Bootcamp for Kids closing ceremony in Abuja, Inuwa, represented by Acting Director of Corporate Planning and Strategy, Dr. Aristotle Onumo, highlighted the incredible potential of Information and Communications Technology (ICT) tools accessible to today's children.
He emphasized that these tools empower young minds to change narratives and overcome barriers on their path to realizing their dreams.
Inuwa stressed that the training equips children with the skills to be proficient in emerging technologies, enhancing creativity, innovation, and problem-solving capabilities.
He noted that digital technologies have no age, gender, or experience barriers, making it essential for young Nigerians to embrace these skills.
The STEM Bootcamp for Kids aligns with NITDA's Strategic Roadmap and Action Plan (SRAP 2021-2024) under the digital literacy and skills pillar.
These initiatives support, promote, and facilitate digital skills and literacy, aiming to develop innovative solutions for adoption and use across all sectors of national life. NITDA's ambitious goal is to achieve a digitally literate population of 95% of Nigerians by 2030.
The event received accolades from parents, educators, and local officials who recognized the value of such initiatives in equipping young Nigerians with the skills needed to thrive in a digital world.
Exceptional participants, who displayed dedication and outstanding skills during the intensive training program, were rewarded with Computers and Tablets as tokens of recognition, while Certificates of Achievement were presented to all 790 beneficiaries, regardless of their individual performance levels.