Sport
Mourinho Is The Right Manager for Pogba, Says Pires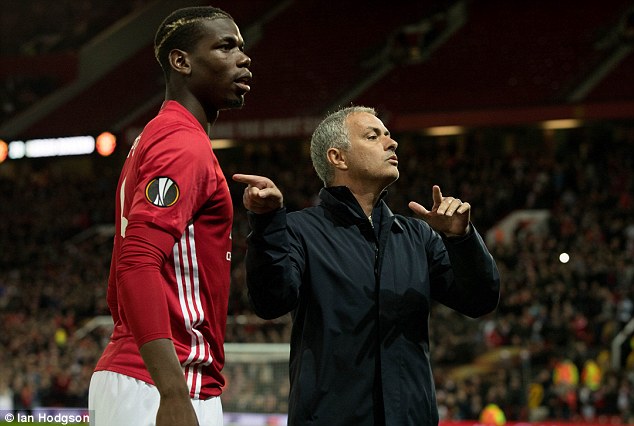 Manchester United boss Jose Mourinho is the right manager to get the best out of Paul Pogba, says Robert Pires, who believes the former Juventus midfielder needs time to adapt at Old Trafford.
---
Mourinho spent £93.25m to bring Pogba to Old Trafford from Juve last summer, making the France international the most expensive acquisition in world football.
However, despite the size of that transfer fee for Pogba in his debut season in the Premier League, Pires has urged patience with the 24-year-old's form.
"He had a lot of pressure because some people were talking about his price tag, but you must not forget that Paul Pogba is a young player and in France we say he needs time to adapt," Pires said in an interview with Sky Sports.
"I think that is very important as the Premier League is very hard, difficult and tough, it is not only for the game, it is every morning in the training sessions."
Pires believes that working under the Portuguese, though, will see Pogba – who has contributed seven goals and five assists in his 41 games in all competitions this season – develop as a player.
"I know Paul, I am very confident for him, but I think Man Utd is a good choice for him and if you work with Jose Mourinho you can learn a lot," said the former Arsenal and France midfielder.
"The first season is very difficult, it is like a transition for him as he used to play for Juventus in Italy and so everything is different. You cannot compare France, Italy, Spain, Germany, UK, they are not the same.
"And that is why the time adaption is very important for Paul Pogba and the other players."
Pires, meanwhile, also had words advice for Pogba's international team-mate Kylian Mbappe, who he thinks should remain at Monaco for now.
The striker has been making headlines of late after helping his side top Ligue 1, as well as reach the Champions League quarter-finals.
Mbappe has 19 goals in 32 games this campaign, form that saw him win his first France cap against Luxembourg on Saturday and which has led to reported interest from Real Madrid.
However, Pires has told the 18-year-old to resist all overtures this summer and instead remain at the Stade Louis II for at least the next two years.
"He is very, very good," he said. "Of course you can compare Mbappe and Henry, but I do not like as Thierry Henry was Thierry Henry.
"Mbappe is the same though as Henry, very similar, good quality and finishing, very fast, clever on the pitch.
"I think now for Mbappe, if I can give some advice to him, the most important thing is to stay in Monaco for a minimum of two seasons because he is young and he need to play.
"And you do not need to go to, say, Real Madrid, who are one of the best clubs in the world, but there is a lot of pressure.
"So maybe he needs to stay in Monaco and keep the stability. He is young and when you are young you need to play and being at Monaco is just perfect for him."