MAPOLY Lecturers Begin Indefinite Strike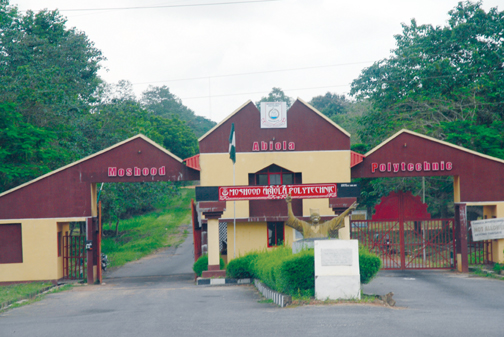 Lecturers at the Moshood Abiola Polytechnic (MAPOLY), Abeokuta have embarked on an indefinite strike deepening the crises that have been rocking the institution.
This decision was announced by the teaching staff of the Polytechnic, under the aegis of the Academic Staff Union of Polytechnic (ASUP), after an emergency congress, held at ASUP Secretariat inside MAPOLY, Abeokuta.
Briefing newsmen immediately after the congress, MAPOLY ASUP chairman, Kola Abiola, said the lecturers decided on downing tools because they believe their safety is no longer guaranteed.
Abiola said even though no lecturer had been threatened since the face-off with the state government, the state machinery had been unleashed to harass and intimidate them.
According to him, unregistered vehicles o a specific brand have been sighted on the school premises despite the fact that unregistered vehicles are not allowed entry the campus as part of security measures.
Abiola alleged that one of the vehicles had pursued and harassed him and even trailed him to the junction leading to his residence.
He said the matter had been reported to the appropriate security agency, however, he maintained that the industrial action became inevitable because the lecturers feared for their lives vowing they would not return to work until security of their lives can be assured.
"We have just held our congress and one of the things that have come out of this congress is the issue of security. Never before has any person's life has been threatened, since July 3rd that we began this struggle and we want to believe that we have not gone confrontational.
"We have asked for audience with the government and we have used every medium available to us, even meeting with traditional leaders and people that matter in Ogun State to warn the government of the state to talk to us. But as we speak to you, the government has unleashed state machinery.
"They want to harass me and kill us. And so because we feel our lives are no longer guaranteed in this campus, all staff of Moshood Abiola Polytechnic, have said that they are no longer willing to provide their services as long as their lives are being threatened.
"The security arrangement is that vehicle with unregistered plate number does not come into school. But we have found out that a vehicle without a plate number has come to school. It has not only pursued and harassed me, they have also trailed me on two occasions to the junction of my residence and these we have reported at the appropriate quarters.
"And the congress feels if members of the exco of the union could be so harassed, what will happen to the ordinary members. And so they would not feel safe conducting exam or conducting their activities in an environment that is not secured," Abiola stated.