Late Night Fire Guts Shops in Gowon Estate, Lagos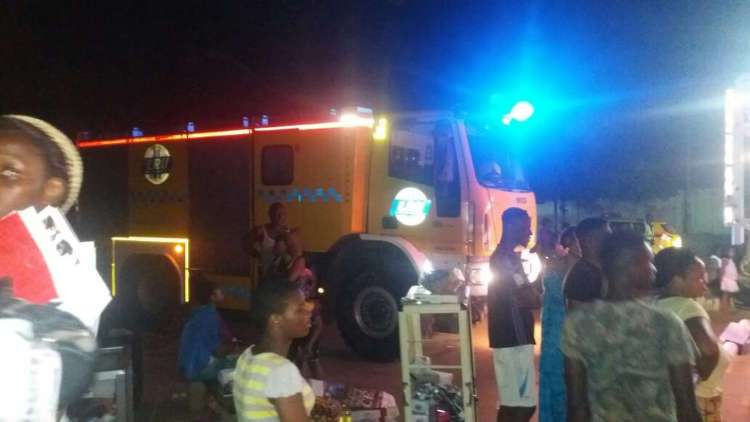 A late night inferno early on Tuesday morning gutted five of eight shops attached to a Union Bank building on 411 Road Junction, Gowon Estate, Federal Housing Authority, Egbeda.
The fire was noticed at the makeshift shops at about 11.20 pm shortly after electricity supply was taken by the providers, Ikeja Electric.
However, many of the shop owners had closed and gone home.
The youth in the area had contained the fire before the arrival of the men of the Lagos State Fire Service from Agege after about an hour.
The residents and sympathisers, who urged the state government to install water hydrants and fire notices all over the estate, also lamented that some of the areas marked for the development of infrastructure for sports, fire service stations and recreation had been sold to individuals by the FHA.
"The areas meant for these purposes have been built up. The last is the Kuwait Field which used to house sports facilities, including football, basketball, tennis and others had been appropriated by land grabbers.
"It has now become a shopping complex cum estate within an estate.
"It is regrettable that the Federal Government and the Lagos State Government are not doing much to ensure that the youth have their future their own way,'' a resident said anonymously.
A resident of the Union Bank building, who does not want his name in print, said that most of the shop owners did not leave in the estate, adding that the cause of the fire has not been identified.
He commended the efforts of the residents, including the youth in containing the fire before the arrival of the men of the fire service who eventually quenched the raging fire.
One of the leaders in the estate, Alhaji Daud Oyebanji, also commended the youth for coming out en masse to contain the fire.
Oyebanji said that the youth ensured that there was no looting of the salvaged items from the burnt and unburnt shops.