Lagos State Government Targets 2 Million Passengers On Waterways Daily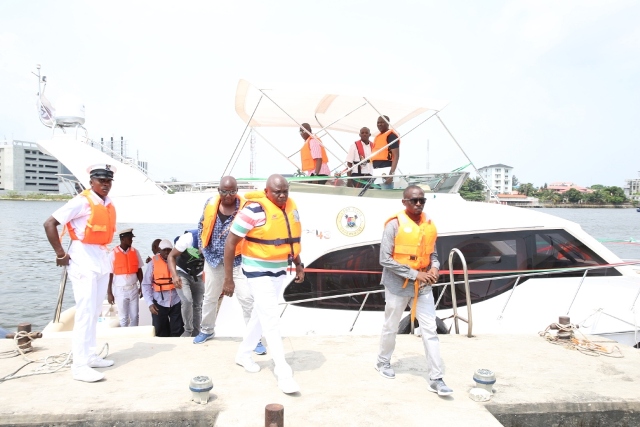 The Lagos state governor, Akinwunmi Ambode on Sunday commissioned three newly-acquired executive boats with a pledge to fully explore the tourism and economic potential of the State's waterways.
Speaking at the unveiling held at Caverton Jetty in Civic Centre area of Victoria Island, the governor said the state government is committed to the implementation of the integrated transport management system designed to scale up water, rail and land transportation.
This is to achieve the grand plan of diverting at least two million passengers on the waterways daily thereby reducing traffic on the road.
He said the boats and four Jet Skis recently acquired by the state government to ensure safety and fight crime on the waterways are preludes to major plans to fully activate the potentials of water transportation.
According to him, "This is a significant day for Lagos State as we commission three boats belonging to the Lagos State Government. We discovered that sometimes, we do not have the ability for our officials to go on the waterways to address issues relating to people and citizens that live alongside the waterways.
"As you are aware, twenty-five per cent of Lagos is water and it is important that we put in the right initiatives that can actually make activities on our waterways to thrive and the also people living along the waterways to bring them into proper perspective.
"Sometimes when dignitaries come from other States or countries, they are not able to see the true side of Lagos from waterways perspective and that is one of the reasons the State Government decided that we would procure the boats that would help us to promote tourism in the State so that people can see the great potentials of Lagos State," he said.
"As people are well aware, we are committed to the integrated transport management system that we have promised Lagosians. As much as we are doing on the roads, we have decided that we would face the waterways. We have just ordered the procurement of seven ferries; we have also invited people from the private sector to take over terminals and also be able to procure their own boats and ferries.
"We are so particular about safety; we are so particular about the future of everyone and that is why we decided also that we would do a lot on channelization and dredging on waterways to make it motorable.
"People will begin to see all these at the end of the first quarter of 2018 and we believe strongly also that both the government boats and the ones from the private sector will start to berth the waterways of Lagos and we will use that to complement what it is that we have on our roads and also use it to complement the future of what we are trying to plan for the rail system."