News
Lagos Government Stops Cash Payment In Revenue Collection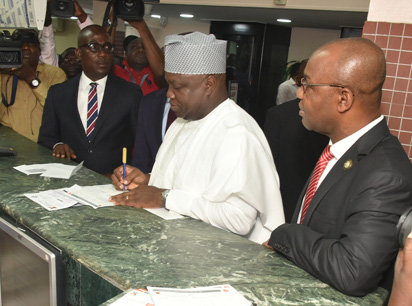 Lagos State Governor, Akinwunmi Ambode, on Monday announced that the State Government will no longer accept cash payment in revenue collection effective from March 1, 2018.
Speaking shortly after paying his Land Use Charge at Opebi branch of Guaranty Trust Bank (GTB) in the presence of top management staff of the bank, Governor Ambode said the measure was aimed at improving on service delivery to residents of the State and as well block all revenue leakages.
He said the transaction process in revenue collection has now been made easy for the people who, according to the Governor, can now pay every day, any time and online.
"In order to ensure that the government improves on the quality of service delivery to our people, effective from 1st March, 2018, no payment or taxes will be made by cash henceforth across the State.
"Tax payers should be able to pay all legitimate bills through all payment channels at their own time and convenience. The transaction process is now going to be every day, anytime and no weekends.
"We should be able to pay our taxes from any bank, any branch using webpay, paypoint and USSD, thereby encouraging mobile money without any contact with government officials. I repeat, every kobo counts; do not pay into wrong hands anymore," Governor Ambode said.
He said in partnership with Interswitch Limited, all the multi-layer platforms would henceforth be deployed and used by all government Ministries, Agencies, Parastatals, Associated Companies and Units.
While explaining the rationale behind his decision to lead the payment of Land Use Charge, Governor Ambode said the State Government could not preach and promise prosperity without leading by example, just as he urged residents and all taxable adults to be faithful to their civic obligations.