Kogi State Govt. Denies Plan to Replace Striking Doctors
Speaking with NAN in Lokoja on Monday, Audu said those peddling the rumour were mischief makers.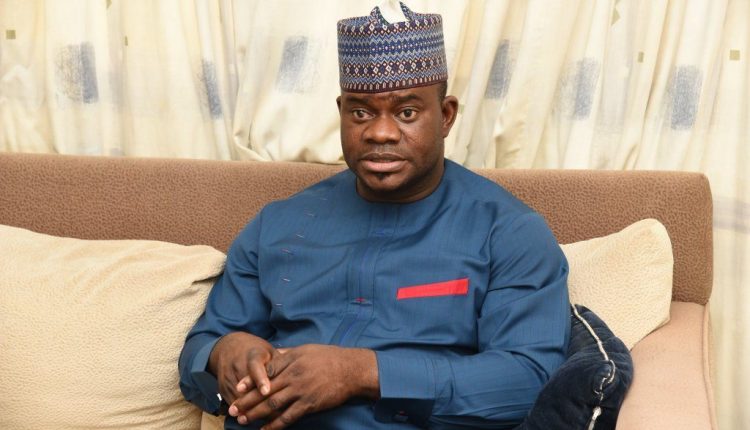 Governor Yahaya Bello of Kogi State
Kogi State Commissioner for Health Dr Saka Audu has revealed that Governor Yahaya Bello has no plan to sack the 163 medical doctors on its pay roll.
Speaking with NAN in Lokoja on Monday, Audu said those peddling the rumour were mischief makers.
The commissioner said the government would recruit 230 health personnel to complement existing ones.
"The rumour of planned replacement of striking doctors is an erroneous impression emanating from trouble peddlers and mischief makers," he said.
The Kogi chapter of the Nigerian Medical Association (NMA) recently accused the government of planning to recruit fresh doctors to replace those on strike.
The NMA Chairman, Dr Godwin Tijani, had in a statement alleged that the Ministry of Health would conduct the recruitment on 19 June.
However, the commissioner dismissed the statement as misleading.
"Not only do we find such an assertion preposterous and mischievous, but one wonders what anyone stands to gain from the spread of such rumour.
"Our drive is to ensure quality healthcare delivery for the people of Kogi; we will never be deterred by the criticisms of the critics and the mischief of trouble peddlers. A clear conscience fears no accusation," Audu said.
The commissioner explained that the State Executive Council gave approval in January to recruit all categories of health personnel.
He listed those to be recruited to include Doctors, Pharmacists, Medical Laboratory Scientists, Pharmacy Technicians, Nurses, Health Record Officers and Technicians, as well as Medical Laboratory Assistants.
Medical doctors in the state had resumed the strike they suspended on 13 May, accusing the government of reneging on an earlier agreement with them.
---

Receive Alerts on: Whatsapp: +2348139009126 (WhatsApp Only), Twitter: @OkayNigeria.