Jonathan's Administration Plunged Nigeria Into Debt – Osinbajo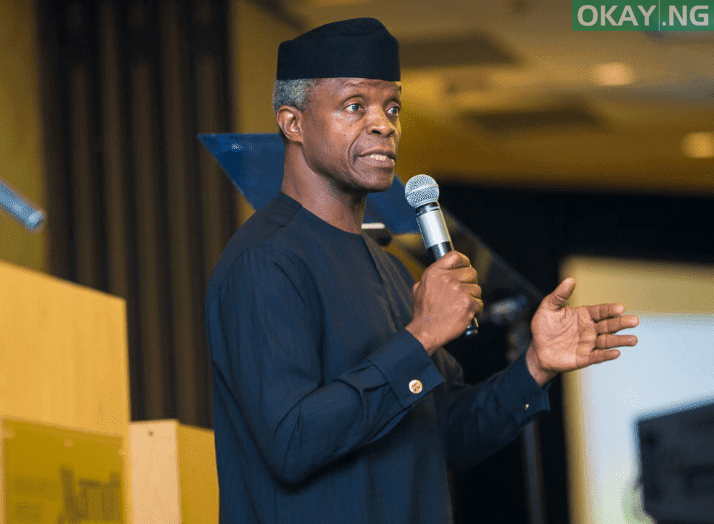 Vice-President Yemi Osinbajo again, on Monday, blasted the administration of ex-President Goodluck Jonathan, saying it was mirred in grand corruption and impunity.
Osinbajo said he was taken aback, on assumption of office, at the kind of grand corruption that took place under the previous government.
The VP said, for instance, he was shocked to find that in one day $292m (about N70bn) was moved out from the Central Bank of Nigeria, "without any contract or any real explanation".
According to him, that dollar haul from the CBN left the apex bank dollar broke for two weeks.
He said it was unimaginable that despite earning $381bn from crude sale between 2010 and 2014 – the highest that the country had ever earned – the nation's external reserves fell to $30bn by 2014 and the Jonathan administration left behind a debt of $63.806bn.
Osinbajo said this on Monday in Lagos in a lecture titled, "Restructuring and the Nigerian federation," which he delivered as part activities marking the 40th anniversary of Association of Friends.
He noted that between 2010 and 2015, Nigeria's debt jumped from $35,093.10bn to $63,806.53bn.
He said, "What do these figures show? They show that when oil prices were at the highest between 2010 and 2014 the government was borrowing heavily.
"From 2010 to 2014, debts moved from $35bn to $63bn. When we assumed office in 2015, the debt that the previous government left was $63bn.
"Today, three and half years later, the debt is $73bn.
"There are two reasons why despite high earnings we are poorer – the first is grand corruption and mismanagement of resources. And there is a difference between grand corruption and ordinary corruption.
"Grand corruption is directly stealing from the CBN, directly taking money from the treasury without any contract, no pretences; there's no caution, you just take money. That was going on and I will give you several examples.
"When I got to the office as Vice-President, I couldn't believe it. In one day, $292m was signed out and it disappeared. After that period, for two weeks, the Central Bank of Nigeria did not have cash dollar – $292m without any real explanation! We later discovered what became of the money.
"On another occasion, N60bn was moved out ostensibly for security purposes; but we know what happened.
"When you have a corrupt government, large sums of money which can be used for development is simply taken. If you are the President of Nigeria, you can literally say, 'Go and bring money'.
"Look at a sum of N60bn; when someone can take N60bn; and $292m, that's almost N70bn. Today, our TraderMoni scheme is costing us N20bn, where we're giving to petty traders a loan of N10,000 and when they pay back, we give them N15,000 and when they pay back, we give them, N20,000. But somebody will take $292m, almost N70bn. If you have N70bn, you will solve the problem of seven million of those petty traders. That's the kind of thing we are talking about and the kind of contrast that we're trying to draw."