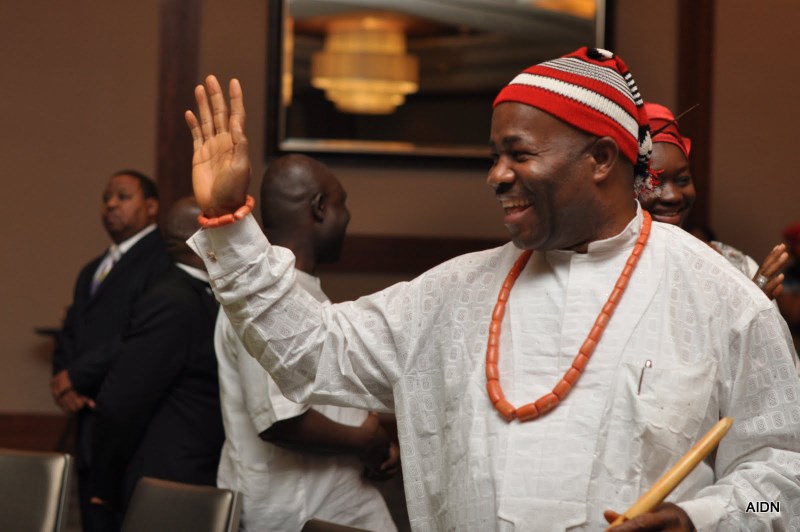 The immediate past Senate Minority leader, Godswill Akpabio, says part of the reasons he joined the ruling All Progressives Congress (APC), was to help President Muhammadu Buhari fight corruption and poverty.
Akpabio who attended the APC caucus meeting for the first time at the Presidential Villa, Abuja on Tuesday night, described Buhari as an infectious personality.
The former Senate Minority leader said the President could still attract millions of people with his infectious character.
Speaking on the resolutions reached at the caucus meeting, Akpabio said "whichever way the party goes in choosing candidates for the 2019 general elections, the party would be the better for it."
He added, "The meeting went very well and a lot of topical issues were discussed bothering on the interests of the nation. The resolutions are fantastic and I believe that the resolutions will not only move the party forward but will help to alleviate the situation in the country today and Nigerians will be happy for it", Akpabio said while fielding questions from State House correspondents in Abuja.
The former Senate Minority leader continued, "Well, you want me to talk from the position of an opposition leader before? Let me say that the first thing you need to know about the APC, from the point of view of leadership, I am quite impressed the President has kept his integrity intact.
"He has been able to improve the image of Nigeria and restore a lot of respect to Nigeria from the international community.
"I have also advocated that he also fights the twin brother of corruption, that is poverty.
"I am joining the APC as a government to stabilize the government and to assist the government to create employment opportunities for Nigerians so that we can fight the twin brother to corruption, which is poverty.
"Poverty creates corruption and corruption deepens poverty, so we need to fight the two together, that is one of the things I find attractive with the APC and believe me with my people in Akwa Ibom State, with my presence in the APC my people in South-South have now seen the light and they say APC is the party to vote for come 2019."