I Didn't Say Governor Ajimobi Must Get Third Term – Olubadan of Ibadan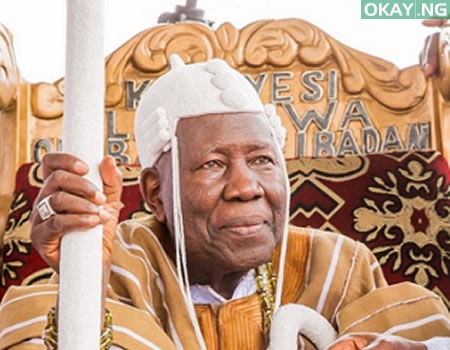 The Olubadan of Ibadan, Oba Saliu Akanmu Adetunji, has described the third term story credited to him on the Oyo State Governor, Abiola Ajimobi, as the misrepresentation of a parable.
Oba Adetunji said he did not use the words third term literally but figuratively, adding that he was surprised many people could not read between the lines.
The monarch spoke in Ibadan, the Oyo State capital, while hosting hundreds of Ibadan indigenes who paid homage at his Popoyemoja palace as part of activities marking this year's Ibadan Week.
A statement by his spokesman, Adeola Oloko, said the first-class monarch noted that what appeared simple and straightforward could sometimes be pregnant with meanings.
He said the discerning would understand the complexity in the simplicity of his statement.
Oba Adetunji urged aggrieved residents not to take the matter out of context but to read more about the use of language, idioms and sarcasm.
He said: "As a monarch, I have no power over the election and re-election of anybody, not to talk of tenure extension, which is unconstitutional.
"Besides, when I was exchanging banters with the governor, I was only cracking a joke with him as a son and subject.
"Even, if Governor Ajimobi offended us, it would be indecorous on my part to address him harshly.
"Besides, there is a subsisting judgment over the controversial chieftaincy review, which awaits compliance.
"About four or five suits relating to the matter are still in court and have not been withdrawn."
The Olubadan also denied receiving any gratification from Ajimobi or his proxies for cracking the third term joke, as being insinuated in some quarters.
He said if anybody had demonstrable evidence, he should produce it.
The first Vice President-General of the Central Council of Ibadan Indigenes, Dr. Lasisi Balogun, who stood in for the President-General, Chief Yemi Soladoye, congratulated the monarch on his second coronation anniversary.
Balogun said the CCII was making progress in the protection of the ancient city's boundaries.
He said work on the new Olubadan palace was expected to complete as soon as more funds were made available.