How to Make Money With Pawo Nigeria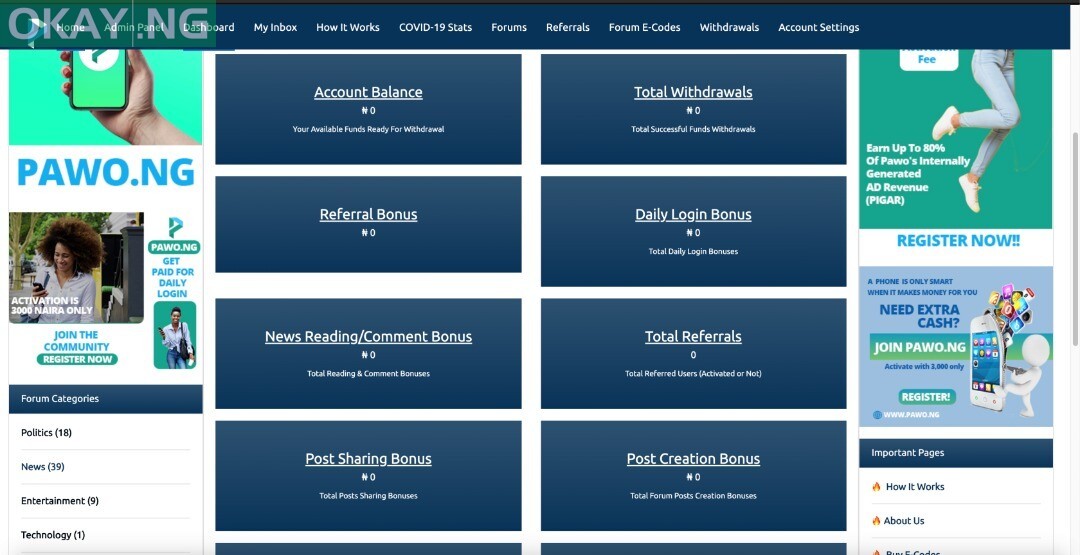 If you have been long waiting for a sure and legit way to make money online in Nigeria using your smartphones,  Here comes another golden and a life-changing opportunity.
Pawo Nigeria is a Forum website where individuals can post and take part in discussions and controversial issues. What makes Pawo Unique and different from every other platform is that you are paid for all discussions and posts.
Pawo Nigeria is a subsidiary of Megatrust Technologies Limited, a company legally registered with the Corporate Affairs Commission (CAC) with RC No: 1543324 in November 2018. The website is keen to make sure all it committed members are paid for their reading passion on the 15th and 30th of every month for participating in Pawo Nigeria's daily activities.
Pawo Nigeria is a News Forum platform where all your activities on the website are been rewarded. Pawo Nigeria pays you for creating quality content, for interacting in a forum post, for engaging in Pawo's Facebook Task, pay you Referral bonus, Testimonial Video bonus,  Alert Screenshot bonus (when we pay you and you still share your alert screenshot with us, we will still pay you for that), engaging in Paswo's WhatsApp Task, Sharing of Forum Posts bonus, and Daily Login bonus not excluded.
All the promises Pawo NG give about the forum post creation bonus, for sharing Facebook task bonus, Referral bonus, Testimonial Video bonus,  Alert Screenshot bonus, WhatsApp task bonus, Sharing of Forum Posts bonus, and Daily Login Bonus are not empty promises and the platform is sustainable as we pay users 80% share of the Pawo Internally Generated AD Revenue (PIGAR) we generated from both our local and international Advertisers.
How to Register On Pawo.ng
Visit https://pawo.ng
Locate registration page
Fill your name and other forms
You'll be redirected to a page where you can submit your bank details to Pawo
You will be asked to make a one-time payment of N3,000, you can pay online or via Pawo agents
Once you have chosen your payment method and paid;
Your account will be activated and you are good to start earning on Pawo.ng
Below are the Earning Opportunities on the Website:
Daily Login Bonus

:

 

You are paid

 ₦100 

o

n your first log in every day.

WhatsApp Task Bonus:

  Amount you will be paid with WhatsApp task is determined by the number of persons that saw your WhatsApp status. You are paid ₦1 per WhatsApp views.

Sharing of Forum Posts Bonus

:  You are paid ₦1 per post you successfully share out.

Reading Post / Comment Bonus

: You are paid ₦5 per post you read and comment on.

Alert Screenshot Bonus

:  You are paid ₦150 immediately you upload your payment screenshot.

Forum Post Creation Bonus

: You are paid ₦50 upon every forum post you create.

Facebook Task Bonus:

  Pawo assign a regular Facebook task to every active member, you are been paid 

₦200

 to carry out each task.

Testimonial Video Bonus

:

 You are been paid ₦500 for uploading an overwhelmed video of you discussing about how Pawo has been helpful to you.
Affiliate/Referral Bonus

:

 

The moment you register an account on this platform and you activate your account, you are automatically activated also as an affiliate member which you will be given a referral link which serves as an added means of earning on the platform. 

Referral Bonus withdrawal is automatic, instant, and can be withdrawn anytime any day, and anywhere. Immediately you click on the withdraw button, the money reflects on your bank account that same moment. Isn't that cool? Of course, it is.
on every successful person who joined the platform and activates with your referral link, we will pay you ₦1,000 each. So the more persons you can persuade to join the platform, the more you earn with no limitation of how many persons you can refer to the platform. Aside from the bonuses are given to you, we also have prizes to be won when you engage yourself in the referral job, prizes like iPhone 11 pro, 42 inches LED TV, 1.5 to 2.0 HP Split AC, and many more.
Assuming you refer up to 20 persons in a month, it is proportional to ₦20,0000 as your refer bonus which is totally different from your main earnings and the sweetest part of our affiliate program is the moment you refer a simple person; you are eligible for withdrawal and withdrawal is done automatically and payments are made within seconds.
Buy Bulk E-code

: 

This bulk e-code purchase feature helps you earn more as a user, We give you a 10% discount for every E-code you purchase on our website using your debit card or online banking method. The minimum E-code you must purchase to be eligible for the 10% discount on each e-code purchase is 10 quantity. It is important to be aware that, to purchase a bulk E-code does not make you Pawo certified E-code agent, every user can buy bulk E-codes and make more profit with the 10% off discount.
Another way of earning on this platform.
Apart from the daily activities earnings, you can also earn from becoming one of Pawo E-code certified agents where you earn per each code you are able to sell on behalf of the website. There's no limit to which amount you can make on E-code selling as well just like no limit to daily activities earnings!
We generate E-code for you at wholesale at a 10% discount on each E-code you sell. The moment you join our Agents, your name will be added among our Verified Agents which will increase your sale quickly. CLICK HERE TO READ MORE on how to become an E-code Agent.
How can I join Pawo?
We have tried in our best capacity to make sure registration is very simple and swift, it will only take a few seconds. The website is at the highest speed to make sure you don't encounter any delay in the process of registration.
The registration process will require N3,000 before your account could be completely set up and payment could be done by purchasing E-code from any of our verified agents or making payment online which is the fastest means of activating your account as everything is done automatically. Purchase E-CODE Here! or  Register Here.
How can I withdraw my Earnings?
We are so much concerned about your satisfaction and we tend not to delay your payment once you hit the minimum payout amount of N4,000. We make payment into your account within a few seconds of your activities earning withdrawals. Activities earnings withdrawal is automatic, instant, and can be withdrawn twice a month (15th and 30th of each month). Immediately you click on the withdraw button, the money reflects on your bank account that same moment.