News
Ford Foundation Donates $600,000 For Museum Project In Lagos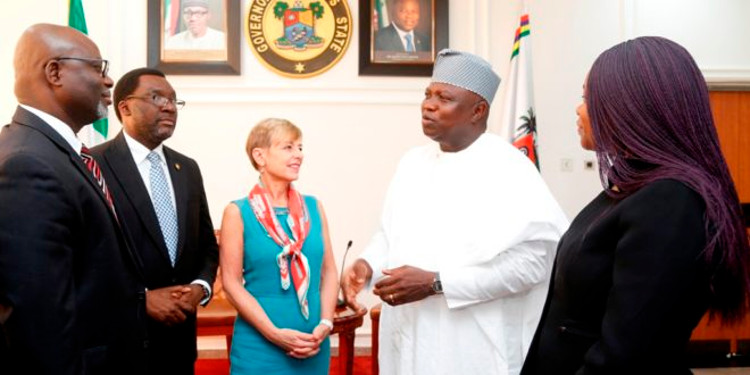 Lagos State Governor, Akinwunmi Ambode on Monday lauded an international organisation, Ford Foundation for donating $600,000 (about N216million) towards the architectural design and commencement of the iconic Lagos Museum Project to be located in Presidential Lodge and Lagos House in Marina.
The Governor has also unveiled plans by the State Government to build a modern museum in Ikeja to promote arts and sciences in addition to the Marina museum.
Speaking at Lagos House in Alausa, Ikeja when he received a delegation from Ford Foundation led by its Executive Vice President in charge of Programs, Ms. Hilary Pennington, Governor Ambode said the two iconic tourism structures, which are in line with the vision of his administration to transform the State into world class tourist destination, would be completed within the next two to three years.
The Governor commended Ford Foundation for the confidence reposed in the State with the partnership, saying that the collaboration, coming from an internationally reputable organization such as the foundation, had served as a motivating factor for the State Government to do more for the people in the sector.
According to the Governor, "We had said we are going to have our own Lagos Museum and the dream is being spearheaded by Ford Foundation. The funding for the architectural work, the design and the initial workspace of the Museum is being funded through the foundation and I am happy to announce that they are making a total donation of $600,000 to us for the commencement of this project to ensure that whatever it is that we put down as Lagos Museum actually reaches that world class status that we want our Museum to be.
"There is a National Museum in Lagos but it does not belong to Lagos State and so we are very proud that we want to sustain our own heritage and we are very proud also that Ford Foundation has also decided to do a road show for us to go across Europe and other parts of the world to bring interested donors to come and partner with us to make the museum a reality.
Earlier, Pennington said the delegation was at Lagos House in furtherance of the partnership with the State Government on the Lagos Museum project, saying that the foundation was honoured to be collaborating with the State.
"We are honoured to partner with you and to support your vision for the Lagos State Government to build an iconic cultural space to make available to all diverse cultures and protect the heritage of this great city and to create space that will be opened to people from all over the world to see and learn about the heritage of this city.
"This is a great city; it's one of the world's great cities and it deserves the kind of iconic space that you are creating and we are very honoured to be part of this," Pennington said.