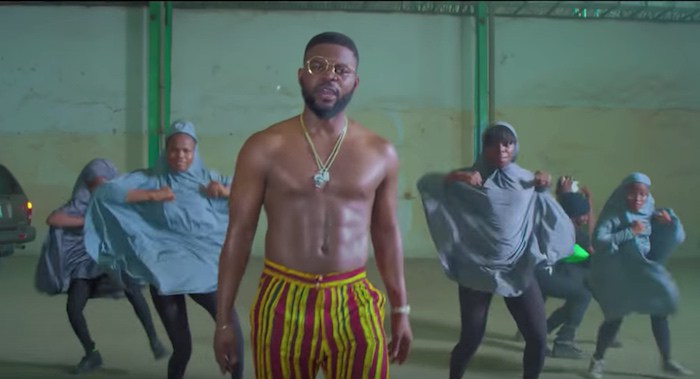 Nigerian versatile entertainer Folarin Falana popularly known as Falz has condemned the threats by MURIC over his "This Is Nigeria" video.
The Muslims Right Concern (MURIC) director, Prof. Ishaq Akintola threatened to file lawsuit, if the artiste does not take down the video which has over 3 million Youtube views.
Akintola said in a press statement that the video was a hateful video because it portrays girls in hijab dancing Shaku Shaku.
The Muslims Rights activist then gave the rapper seven days ultimatum to take the video down or face litigation.
Reacting, Falz told Punch's Saturday Beats that it was absurd for MURIC to threaten him because of the video.
According to him, the video is about the Girl-child in the north and the issues of kidnappings.
He said, "I think it is very clear what that scene represented in the video. The message is very clear because the girls there symbolise the constant issues and troubles that face the innocent girl child in Nigeria, especially in the northern part of Nigeria.
"They have been victims of kidnappings and we have the case of the Chibok girls and recently the Dapchi girls.
"Till date, most of the Chibok girls have not been found while a Dapchi girl is still held captive. That is what those girls symbolise.
"I feel everyone got the message and it is absurd that a group of people like MURIC alleged that it is a hate video.
"I do not think that makes sense in any way because in the same video, I spoke about other issues like insecurity, corruption, and I even talked about pastors.
"No Christian has come out to say that it is a hate video; so what is MURIC talking about? I do not really understand them."
When asked why the girls in hijab have to dance Shaku Shaku which is secular, he said:
"If you noticed, I was dancing as well and the dance was symbolic. The dance was symbolic of entertainment being a distraction from everything that is happening in our society. Shaku Shaku is the most popular dance step in Nigeria and it is currently in vogue; it is pretty clear that with all that is happening, everyone is embedded and carried away with the dance culture.
"I was just trying to say that everyone is too carried away with entertainment that they seem to forget all the things that are happening right in front of our faces," he explained.