Court Hears Apostle Suleman's N1bn Lawsuit Filed Against Stephanie Otobo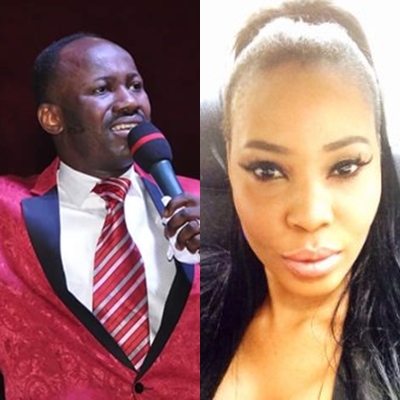 An Ikeja Magistrate's Court in Lagos on Thursday heard the N1bn lawsuit Apostle Suleman filed against Canada-based Nigerian singer, Stephanie Otobo.
Stephanie Otobo was not represented in court for the case filed by the Omega Fire Ministries (OFM) General Overseer.
This case was filed after Stephanie accused the cleric of adultery, accusations which he has since denied.
Tribune reports that Apostle Suleiman, who was represented by E.L Akofure (SAN), told the court that they had a motion for an interlocutory injunction which had been due for hearing.
"My Lord, our motion is very ripe for hearing but sadly, the defendant is not in court neither is she represented.
"The defendant has refused to enter an appearance in this matter despite the fact that she has been duly served with hearing notices. I would have said that My Lord should hear the motion but I suggest that things are done the right way and another hearing notice be re-issued to the defendant," Akpofure said.
The presiding judge, Justice Adedayo Oyebanji, ordered for another hearing notice to be issued after listening to Akpofure's submission.
She adjourned the case to February 7, 2018, for hearing on the motion by the claimant asking for an interlocutory injunction.
It was learnt that the police had arraigned Stephanie in March before a Tinubu Magistrate's court in Lagos, over allegations by the cleric that she is trying to blackmail him.
She was charged alongside one Wisdom Godstime on a three-count charge bordering on conspiracy, blackmail, and a threat to life, levelled against them by the police.
The police had claimed that the defendants with the intent to blackmail Suleman, unlawfully demanded $1 million from him, threatened to call a press conference and accuse him of adultery and having an illicit relationship with her, then kill him afterwards.