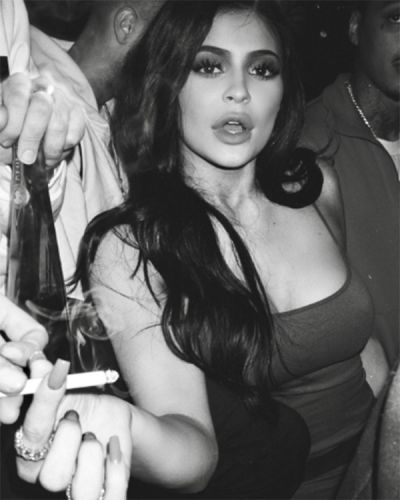 Kylie Jenner
---
Doesn't Kylie Jenner , 19, know that smoking kills? Fans are completely freaking out over Kendall Jenner's, 21, latest Instagram post, which shows her sister passing a cigarette in a crowded room.
This comes as a huge shock to us considering the healthy lifestyle she keeps up on social media. The reality star is always cooking up something healthy in the kitchen, and one of her favorite snacks include pomegranate seeds. She doesn't even drink alcohol — at least she didn't at her 18th birthday party, which was filmed on Keeping Up With The Kardashians last year. Kris Jenner was nervous about her baby going too far at the Beachclub in Montreal, but Kylie was totally in control of the party!
That being said, the Kardashians/Jenner ladies have seemingly taken a liking to marijuana. Back in January, fans had an absolutely field day over a Snapchat video of Kylie smoking from a suspicious looking vaporizer in the car . It was impossible to tell if the substance was actually weed, but something tell us it wasn't ordinary tobacco.
Then again in March, the makeup maven posed for a sizzling black and white Sasha Samsonova photoshoot with a lit blunt-ish looking cigarette in her hand. Two different photos showed her inhaling and breathing smoke out . Again we can't 100% determine what the substance was.
Big sister Khloe Kardashian, on the other hand, was reportedly proud to flaunt a marijuana blunt in front of rolling cameras when her family took a trip to Costa Rica. "Yes, that was a joint in her hand as she hugged Scott Disick," a source confirmed to TMZ. "Producers didn't mind Khloe shooting scenes with it because it was natural — she was having a good time with the fam in Costa Rica, and sometimes ganja happens."