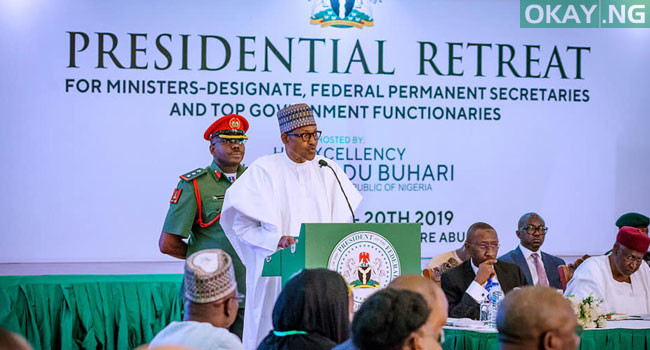 President Muhammadu Buhari has directed incoming ministers to always forward their requests through his Chief of Staff, Mr Abba Kyari.
Buhari said while addressing the ministers at the two day Presidential Retreat for the incoming Ministers at the Presidential Villa, Abuja.
In his words:
"In terms of coordination, kindly ensure that all submissions for my attention or meeting requests be channelled through the Chief of Staff, while all Federal Executive Council matters be coordinated through the Secretary to the Government of the Federation.
"Public service is not easy work, and at times it can be thankless. I am therefore charging you all to see this opportunity to serve as an honour, to give your best to deliver on this mandate, for a more prosperous Nigeria, not for some, but for all Nigerians.
"You will find that working collaboratively and purposefully will enable us to achieve quicker results, recognizing that four years is not a very long time.
"For the new Ministers, make sure you engage and benefit from the experience of the older Ministers and former Governors in the cabinet."