News
Boko Haram Terrorists Now Using Drones to Attack Nigerian Troops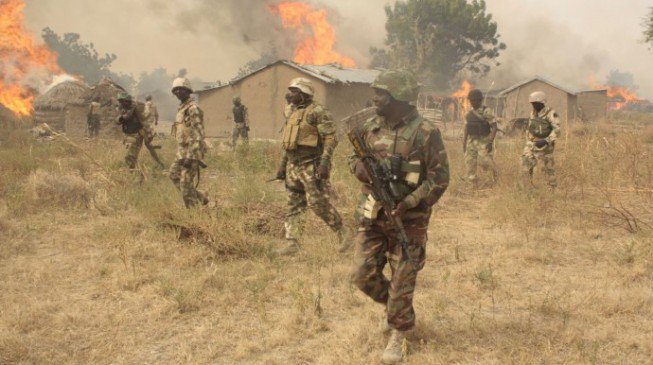 The Nigerian Army has revealed that the Boko Haram Terrorists has upped their game and now use drones and foreign fighters to attack the Troops.
Army spokesperson, Brig Gen Sani Usman, revealed this while addressing newsmen on Wednesday that the Nigerian troops deployed in the North East of Nigeria under Operation LAFIYA DOLE have come under series of attacks by large numbers of Boko Haram Terrorists.
He said: "in the last 2 – 3 months, we have noticed daring moves by the terrorists, increased use of drones against our defensive positions and infusion of foreign fighters in their ranks."
He also revealed that these potent threats require army authorities to continually review operations.
Speaking further on the recent attacks he said, "Specifically, the Nigerian Army troops deployed at KUKAWA, NGOSHE, KARETO and GAJIRAM came under attack at different times within a 2 week period from 2 – 17th November 2018.
"Each of these incidents were successfully repelled and several members of the terrorists were killed.
"However, a total of 16 personnel were killed in the course of these attacks while 12 soldiers were wounded in action and are receiving treatment at our military medical facilities.
Nigerian Army Troops in action
"As you are all aware, Nigeria is contributing troops to the Multi-National Joint Task Force (MNJTF) which has its headquarters in N'djamena, in the Republic of Chad. One of the Nigerian battalions (157 TF Bn), deployed under the auspices of the MNJTF was attacked at their Base on the outskirts of a town called METELE on 18th November 2018.
"During the attack, the troops were forced to withdraw and several casualties were recorded. As at date 23 personnel were killed in action and 31 personnel were wounded in action and have been evacuated to several medical hospitals within Borno State.
"The Nigerian Army commiserates with the MNJTF at this difficult time and wishes to state that all necessary support will be rendered to the MNJTF to reverse this resurgence of the Boko Haram Terrorists.
"The Nigerian Army wishes to further commiserate with the families of the gallant officers and soldiers that paid the supreme price in the course of defending their fatherland. The sacrifices of these fallen heroes will not be in vain, Sani said.
okay.ng recalls that President Muhamadu Buhari visited the troops on Wednesday as he encouraged them to remain focused on fight against Boko Haram so as to completely wipe out them off.