Boko Haram Faction Kills Another Aid Worker 'Hauwa Leman'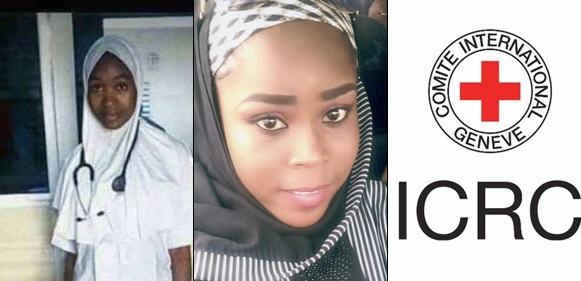 A faction of the Boko Haram sect Islamic State West Africa Province (ISWAP) has killed Hauwa Leman, an aid worker.
Hauwa was an aid worker with the International Committee of the Red Cross (ICRC).
The Nigerian government Monday said that a female aid worker has been killed following the expiration of the deadline given by her abductors.
Hauwa Mohammed Liman was an aid worker with the International Committee of the Red Cross.
"We are deeply pained by this killing, just like we were by the recent killing of the first aid worker," minister of information Lai Mohammed said in a statement.
Mohammed said the government will keep the negotiations open and continue to work to free the innocent women who are still being held.
Liman, a midwife at an ICRC-supported hospital, was kidnapped along with two of her colleagues Alice Loksha, a nurse working with UNICEF, and Saifura Hussaini Ahmed Khorsa.
Khorsa, a midwife with ICRC was killed in September by the Islamic State for West African Province, a Boko Haram splinter group that is loyal to the Islamic State. The fate of Loksha is yet unknown.
The terror group, also holding a Dapchi girl, Leah Sharibu, said last month that Liman and Loksha would be killed within a period of time that is due on Monday.
ISWAP said in a statement that Liman and Khorsa were because they were apostates and that Leah Sharibu will be kept as a slave.
"We have kept our word exactly as we said, by killing another humanitarian worker, Hauwa Leman, who is working with the International Committee of the Red Cross (ICRC) that were abducted during a raid on a military facility in Rann, Kala Balge in March 2018," ISWAP said in a statement published by TheCable.
"Saifura and Hauwa were killed because they are considered as Murtads (apostates) by the group because they were once Muslims that have abandoned their Islam, the moment they chose to work with the Red Cross, and for us, there is no difference between Red Cross and UNICEF."
The Nigerian government insisted it did all it could to save the aid workers and others being held.
"We kept the line of negotiations open all through," Mohammed said.
"In all the negotiations, we acted in the best interest of the women and the country as a whole."
Read More News HERE