News
Biafra: Nnamdi Kani Finally Speaks After He Was Spotted In Jerusalem [Read]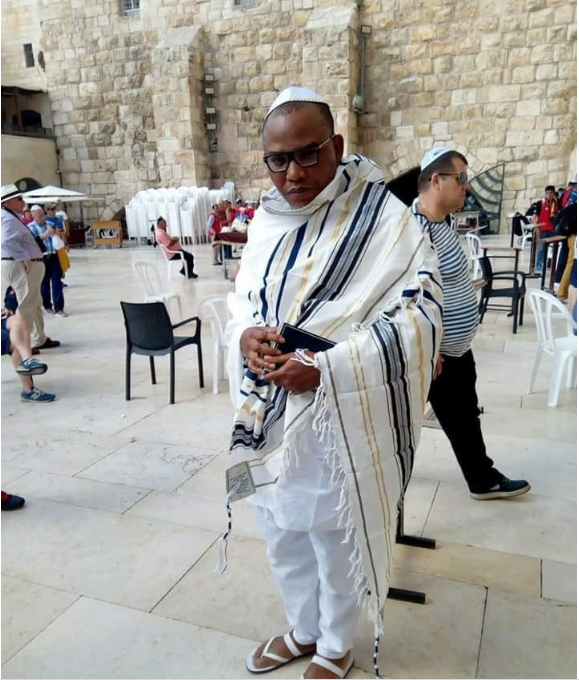 The leader of the Indigenous People of Biafra (IPOB) Nnamdi Kanu, says he will not return to the federal high court in Abuja where he was standing trial before he left the country because he does not recognise it.
okay.ng reported about the resurgence of the IPOB leader in Jerusalem, Isreal.
Reacting in a broadcast via Radio Biafra, Kanu boasted that the Nigerian court lacks the capacity to try him.
The IPOB leader said Justice Nyako who has asked his sureties to produce him should have asked the Nigerian army why they invaded his residence.
His words: "The notion that I jumped bail is a fallacy in Law, I did not jump bail, on the 14th of September 2017 the terrorists of the Zoo came to kill me, they know if I go to court Nigeria will burn and I was forced to leave, I did not jump bail.
"The Zoo called Nigeria can not jail me. I will fight till the last day. Binta Nyanko court failed to ask army why they invaded my home. Nigerian court is a Kangaroo court. I did not jump bail, I left because the court failed to protect" Kanu
"I am not a Nigerian. I already renounced Nigeria in 2015. I am a Biafran with British Nationality. I can not be tried by a court I do not recognise. I do not recognise Nigeria. I can only come to the court with UN supervision," he said.
Read More Interesting News HERE