The Abdul Samad Rabiu Africa Initiative (ASR Africa) and the BUA Foundation, under the leadership of industrialist and philanthropist Abdul Samad Rabiu, have awarded development grants worth N1.5 billion to Yewa Land in Ogun State.
The grant will be used to support key community, social, and infrastructural development projects in the areas of Ilaro, Igbogila, Ibeshe, Egua, and Igonade communities.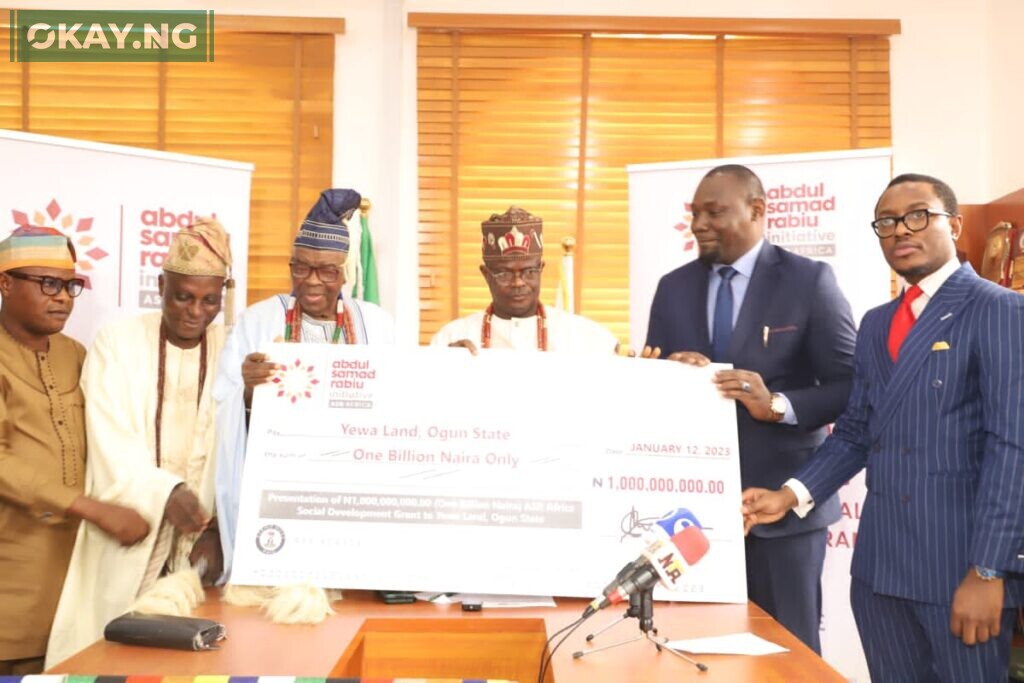 The grant presentation and mutual accountability framework signing ceremonies were held in Ilaro, Ibese, and Igbogila, where Ubon Udoh, Managing Director of ASR Africa, presented the grant award letter to Oba Kehinde Olugbenle, the Olu of Ilaro and Paramount Ruler of Yewaland.
During the ceremony, Mr. Udoh assured the people of Yewaland of more partnership opportunities with ASR Africa and the BUA Foundation, reiterating the vision of Abdul Samad Rabiu to provide concrete solutions for sustainable development in Nigeria and Africa.
The grants will be channeled towards interventions in the areas of health, education, and social development initiatives that are identified for implementation. The first grant of N1 billion is to be used for developmental purposes across all communities in Yewaland, with the aim of uplifting the quality of life of the Yewa people. Additionally, ASR Africa and BUA Foundation are giving specific grants of N250 million each to Igbogila and Ibese Communities for already identified infrastructure projects to enhance community development through their traditional institutions.
The funding for these grants was made possible through the partnership between ASR Africa and BUA Foundation, which conducted basic needs assessments in collaboration with the communities to identify their needs.
The partnership aims to ensure the commencement of the identified projects and a more robust partnership with Yewaland, similar to the partnerships that have been established in other parts of the country.
In his response, Oba Kehinde Olugbenle, the Olu of Ilaro and Paramount Ruler of Yewaland, commended Abdul Samad Rabiu for his philanthropic gestures across the country and noted that indeed he is a true Nigerian. The monarch added that with the grants, Yewaland and Yewa people will witness rapid social and infrastructural development.
"We are one of the largest sub-ethnic groups in Yoruba Land and these grants will go a long way in bringing sustainable development in line with the United Nations SDGs, to our people", he added.
The Paramount Ruler of Ibese community, HRM Oba Rotimi Mulero, The Oboro of Ibese, also thanked the donors for their timely intervention in developing the Ibese community.
"May the Almighty bless Abdul Samad Rabiu, ASR Africa, and BUA Foundation for partnering with us to fast-track development in our community because we are still largely behind on the development curve. This partnership with ASR Africa and BUA Foundation will go a long way in ensuring even greater development for our people."