Apple has once again taken the tech world by storm with the unveiling of the iPhone 15 Pro and iPhone 15 Pro Max during its highly anticipated "Wonderlust" event.
These new models have been designed with aerospace-grade titanium, resulting in the lightest Pro models ever produced by Apple.
With powerful camera upgrades, an advanced A17 Pro chip, a USB‑C connector, and innovative features, the iPhone 15 Pro and iPhone 15 Pro Max are set to revolutionize the smartphone industry.
Design and Customization
Both the iPhone 15 Pro and iPhone 15 Pro Max are available in two stunning display sizes: 6.1-inch and 6.7-inch. These models feature a groundbreaking titanium design, a first for iPhones, which not only provides remarkable strength but also ensures they are the lightest Pro models ever created by Apple.
The titanium bands complement a substructure made from 100 percent recycled aluminum, a significant step towards sustainability in smartphone manufacturing.
These new iPhones also boast the industry-leading Ceramic Shield on the front, making them incredibly durable.
One of the notable design changes is the introduction of the customizable Action button. This button allows users to personalize their iPhone experience, enabling quick access to functions such as the camera, flashlight, Voice Memos, Focus modes, Translate, and accessibility features like Magnifier.
The Action button provides tactile feedback and visual cues to ensure users launch the intended action effortlessly.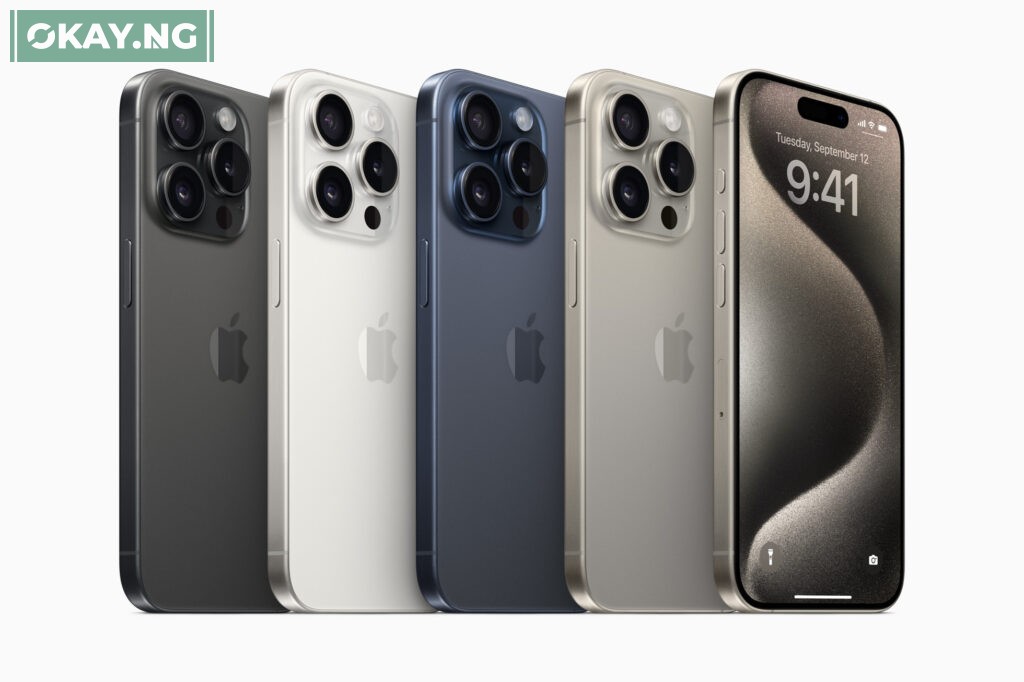 A17 Pro Chip: Unleashing Pro Performance
Powering the iPhone 15 Pro and iPhone 15 Pro Max is the A17 Pro, Apple's cutting-edge 3-nanometer chip. This chip represents a leap forward in smartphone silicon technology, with significant improvements across the board. The CPU is up to 10 percent faster, while the Neural Engine has doubled in speed, enhancing features like autocorrect and Personal Voice in iOS 17. The pro-class GPU is up to 20 percent faster and now supports hardware-accelerated ray tracing, resulting in smoother graphics and more immersive AR experiences.
These enhancements bring console-level gaming to the iPhone, with titles like Resident Evil Village, Resident Evil 4, Death Stranding, and Assassin's Creed Mirage. A dedicated AV1 decoder ensures more efficient, high-quality video streaming. The iPhone 15 Pro lineup also offers USB 3 speeds, which are up to 20 times faster than USB 2, enabling new pro workflows and video formats.
Pro Camera System: Elevating Photography and Videography
The iPhone 15 Pro and iPhone 15 Pro Max feature an impressive camera system that packs the equivalent of seven pro lenses, all thanks to the A17 Pro chip. The Main camera, exclusive to the Pro lineup, offers a new super-high-resolution default of 24MP, making it ideal for storing and sharing high-quality images. Users can switch between three popular focal lengths (24 mm, 28 mm, and 35 mm) and even set one as the new default.
The Telephoto camera on the iPhone 15 Pro Max offers a remarkable 5x optical zoom at 120 mm, making it perfect for close-ups, wildlife photography, and capturing distant action. Night mode has been enhanced with sharper details and more vivid colors, powered by the Photonic Engine and featuring Night mode portraits thanks to the LiDAR scanner. Smart HDR improvements ensure photos have brighter highlights, richer midtones, and deeper shadows.
The video capabilities of the iPhone 15 Pro lineup have also received significant upgrades. The introduction of ProRes video recording, USB 3 support, and advanced video workflows cater to creative professionals and filmmakers.
Connectivity and Wireless Performance
Both models of the iPhone 15 Pro lineup now use a USB‑C connector, which offers faster data transfer speeds (up to 10 gigabits per second) and enables unified charging across various Apple devices, including Mac, iPad, and AirPods Pro (2nd generation). The second-generation Ultra Wideband chip enhances Precision Finding in Find My, allowing users to locate their devices more accurately in crowded areas.
Support for Wi-Fi 6E delivers faster wireless speeds, and the iPhone 15 Pro lineup introduces Thread-enabled smartphones, promising seamless integration with HomeKit-enabled devices.
Pricing and Availability, Including iPhone 15 Pro Max Price in Nigeria
The iPhone 15 Pro and iPhone 15 Pro Max will be available in four stunning finishes: black titanium, white titanium, blue titanium, and natural titanium. Pre-orders begin on Friday, September 15, with availability starting on Friday, September 22.
How much is iPhone 15 Pro Max in Nigeria?
Apple has priced the iPhone 15 Pro starting at $999 (U.S.), which is around NGN982,000 with the current exchange rate, and the iPhone 15 Pro Max starting at $1,199 (U.S.), which is around NGN1,100,000 with the current exchange rate.
These prices may vary depending on the storage capacity selected. Be sure to check with authorized retailers in Nigeria for local pricing and availability.
Apple continues to offer trade-in programs and carrier-specific offers to help customers upgrade to the latest iPhones.
In the U.S., customers can receive trade-in credits ranging from $200 to $650 when upgrading from an iPhone 11 or later.
With this new release, Apple is pushing the boundaries of smartphone technology and design, reaffirming its commitment to innovation and sustainability while addressing the needs and desires of users worldwide.
The iPhone 15 Pro and iPhone 15 Pro Max promise to enrich everyday experiences and empower users to unleash their creativity.