ABUAD Best Graduating Medical Student Gets A Brand New N5.7M Car Reward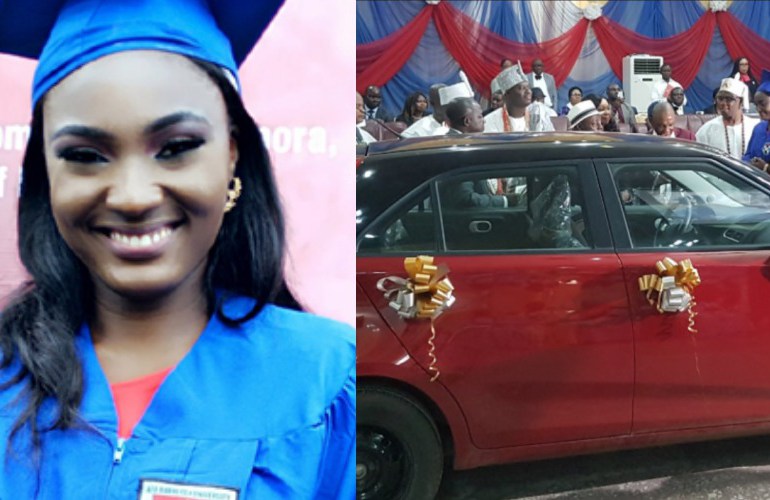 The management of Afe Babalola University Ado-Ekiti, ABUAD has ensured that the best graduating medical student, Miss Esther Adaobi Azom was rewarded for her efforts at achieving academic excellence with a brand new car worth N5.7M donated by Coscharis Motors as well as 1 million naira in cash.
The management of ABUAD disclosed that 24 year old Adaobi had maintained distinctions from her 100 level straight through to final year while noting that she had set an excellent academic record that will take a while to surpass.
Miss Adaobi obtained distinctions in Surgery, Medicine and Community Medicine in the final MBBS examinations thereby becoming the undisputed best graduating medical student of the institution.
Aare Afe Babalola the founder of the institution revealed that her academic record had been monitored from 100 level during which the institution encouraged the youngster by bestowing the N500,000 Founder's Annual Scholarship Award on her from her first year to her final.
The latest gifts in honour of the Academic prowess of the youngster came during her induction last week Tuesday in ABUAD where she was the pride of her parents and the ABUAD management and the centre of attention at the ceremony.
The Car was presented to the young lady by the owner of Coscharis Motors; Mr. Cosmas Maduka who reiterated that the gesture was his own way of encouraging hard work and excellence among students. Are Afe Babalola, also added his own gift of N500,000 cash stating that the money was reward for making distinctions in all three MBBS courses.
Not done with the gifts and accolades, Ms. Azom was further gifted the sum of N250,000 as well as an additional N1m by the Oni of Ife, Oba Adeyeye Eniitan Ogunwusi, Ojaja II who stormed the ceremony with his chiefs and some other first class Obas in Yoruba land.
Not to be wanting to be outdone in showing that academic excellence still has its reward, the ABUAD graduate received cash gifts from Oba Dr. Kiladejo, Jilo III, the Osemawe and Paramount ruler of Ondo Kingdom as well as the Ewi of Ado Ekiti, Oba Rufus Adejuyigbe Aladesanmi III.
The Young lady who seemed overwhelmed by all the gifts told journalists that although there were some challenging moments, her overall experience as a medical student at ABUAD had been a good one. She further reiterated that hard work and consistency had enabled her achieve the feat, stressing that consistency is key in medical school.
According to Ms Adaobi;
"ABUAD is great, my university is the best. The school impacted my life to make me know that hard work is the key to success. I specially thank ABUAD for all these. I always felt I would be the best because I worked towards it. I want to advise students that hard work pays, keep reading, keep doing what you can, go to a good school and you will never regret it."