Politics
Abba Yusuf blasts Ganduje, describes him as 'a product of rigged election'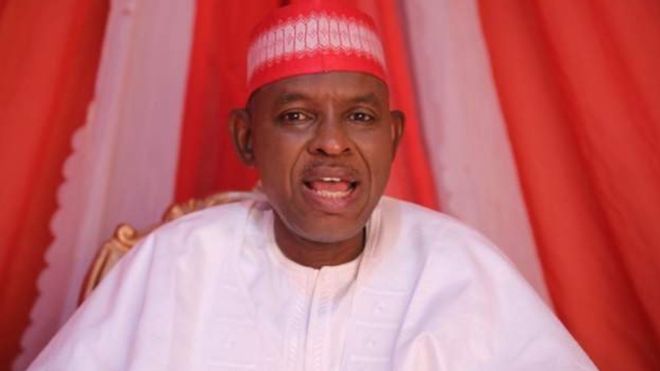 The Peoples Democratic Party (PDP) governorship candidate in Kano state, Abba Yusuf, has blasted Abdullahi Ganduje as he describes him as 'a product of rigged election'.
Yusuf said the concluded governorship election in Kano was rigged and was not the will of the people.
Sanusi Dawakin-Tofa, spokesman of the PDP candidate in Kano, in a statement said Ganduje should be ashammed for celebrating a rigged election.
The statement reads:
"For Ganduje to celebrate what happened on 23rd of March, 2019, his conscience must have been on vacation. It is our prayer that he regains it quickly and apologize to the good people of Kano State on his malicious actions that put the state into anarchy through crass impurity," the statement read.
"It was glaring to the local and foreign media, domestic and international observers and the general public as well, how Kano was placed under siege by hired thugs imported from neighboring states of Zamfara, Katsina, Kaduna, Plateau, Bauchi and the Niger Republic by Gov. Ganduje and his cohorts.
"The election was characterized by open vote buying, voter intimidation, harassment and flagrant abuse of human rights, killing and maiming of innocent citizens in connivance with the hoodlums who enjoy the full cover of the security agents.
"It was clear that voters were disenfranchised, sensitive materials were hijacked by APC stalwarts who were seen stuffing ballots boxes with already thumb printed ballot papers in favour of the ruling APC. Results were fabricated with the full support of the INEC officials.
"Upon all the unfortunate trend of events that took place during the re-run, INEC went ahead to unlawfully declare the result in favor of Ganduje which threw the people of Kano into a state of mourning for weeks.
"It is evident that INEC in Kano and the security apparatus have been compromised through inducement by the Ganduje's administration. We have seen reports exposing speedy land allocation to some INEC officials. To a significant extent, Ganduje influenced the major decisions of the electoral body (INEC).
"I am still battling to recall which celebration Ganduje is referring to in his interview, is he referring to the huge amount of money spent on DJs to amplify the celebration of his purported victory?
"To us democracy was massacred during the Kano Supplementary election, there was no election conducted, it was nothing buy a sham which led to robbing the people's mandate in a broad day light approach.
"In our mission to reclaim the stolen mandate, we have resolved to challenge the unlawful declaration of Ganduje by the so called professors at INEC Kano; we have a very prosperous case to pursue at the Election Petition Tribunal, which has the potential to restore the public confidence of the judiciary in Nigeria."