21 Newly-crowned Kings Wearing Carton Crowns – Olubadan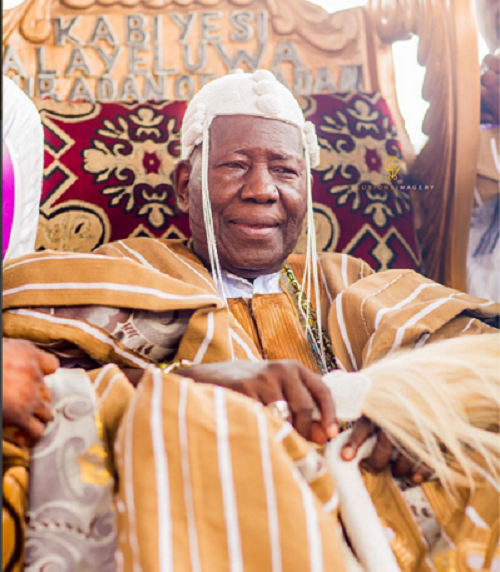 The Olubadan of Ibadan land, Oba Saliu Adetunji, has disparaged the 21 newly-crowned Ibadan kings, questioning their legitimacy and describing their crowns as ones made of carton.
The king was especially baffled by the disregard for due process involved in the Ibadan kingship process, pointing to how his ascension to the throne happened 40 years after he was made Mogaji: a prerequisite title for kingship.
These are contained in a statement made available on Tuesday by the monarch's media aide, Adeola Oloko, after the king hosted members of the Council of Authentic Ibadan Mogajis.
He said, "I started as a Mogaji. I was moving step by step before I assumed the throne after 40 years. I thank God for that. We must all love one another. If you love yourself and hate others, your purpose of love is nothing. I was called by the elders of my family to come and become a Mogaji more than 40 years ago. I rejected it and for three years, they were persuading me.
"In trying to convince me, the representative of my family told me that it could be that one day I would become a king. I then accepted it and became the Mogaji of my family. I waited on God and he made me a king.
"Those who were crowned a few weeks ago know within themselves that they are wearing fake crowns, it is just a carton crown. I began my journey more than 40 years, why can't they wait for their turn. If you don't wait for your turn, you will be on the wrong side of destiny."
The Mogajis, in turn, also reiterated the belief in the illegitimacy of the new kings and called to question the process that led to their elevation.
In a press statement released by the Mogaji Olugbesan family in Agbokojo area of Ibadan, Azeem Gbolarumi, the group asked why Baales, who in the hierarchical system are beneath Mogajis and High Chiefs, were elevated to the position of kings.
They said such a move erodes the power of the Olubadan and expressed hope the Oyo state government would "rescind and reverse the decision".
The conference was held with a heavy presence of policemen at the venue and roads leading to it. After the conference, the Mogajis moved to the Olubadan palace in a long convoy.
They said: "The high chiefs that were promoted have no territorial governance and cannot exercise the right of obaship. No socio-economic development can be associated with a warrant oba.
"It is a creation of political expediency. There is no authority to be exercised over a particular territory, in other words, no legitimacy can be conferred on them by the citizens, thus negating the principle of ruler and subject. Any government that is trying to lure chieftaincy matter into political maneuvering in whatever guise is igniting a Pandora box of violence full of gunpowder, capable of exploding any time.
"What the Ibadan people are asking is that the government should revert to the original chieftaincy system in Ibadan land. If there is anything that will change it, the Olubadan-in-Council should preside over such matter. It is a declaration and not chiefs laws.
"A government cannot sit in the morning over declaration matter and make people king in the evening. In the whole of Yoruba land and Nigeria, it is not heard that a government will enthrone people as king. The people must decide who will be their king through a traditional system.
"Anyone crowned by a government should know that he is not wearing an original crown. In Yoruba land, a king is not chosen in the way this government has chosen those kings. Why must we deceive ourselves? Even if the government has a good intention, the way it has approached this matter will make the people believe that it has an ulterior motive."