A recent twitter article which can be found here, got this author thinking… Who is the odd man out? It was not hard to decipher: https://twitter.com/ABATMediaCentre/status/1541051468740022272?s=08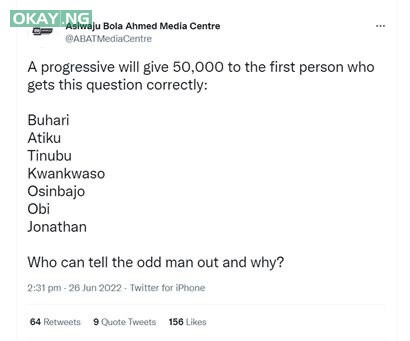 He is an accountant by education and training, an ex-Senator of the Federal Republic of Nigeria, ex-governor, and current presidential candidate for the All progressives Congress in Nigeria.
Since 1992, he has consistently bestrode the political landscape – first becoming a senator (undisputed) who then yielded his already guaranteed senate presidency to Iyorchaa Ayu (a Northerner), in the interest of a Southern presidency and Christians (as both the presidential candidate – MKO Abiola, and Vice presidential candidate, Babagana Kingibe, of the SDP were muslim). With the return of democracy to Nigeria, he then became a first term Governor (undebatable), a second time governor (unbeaten) and now, a presidential candidate in the 2023 Nigerian presidential Elections (Still undefeated).
He has never had to rely on court judgment for electoral wins. Never been impeached in office under any guise. He also laid the foundation for West Africa's most sustainable sub-national government, Lagos. One key thing has stood out: he has never lost an election with his name on the ballot. That's why many consider him a force to be reckoned with.
He was amongst those at the forefront of fighting for democracy under military rule whilst he was in Nigeria, and later in exile. Yet, after democracy returned to Nigeria, he still remained at the forefront of entrenching democratic principles – championing many of the wins for constitutional democracy which States are enjoying today, by challenging the federal Government on various constitutional matters.
He co-orchestrated the biggest political upset in Nigeria's history by forming an alliance of parties that dislodged the then ruling PDP who had boastfully claimed they will rule Nigeria forever.
He has been hounded, slandered, thoroughly investigated by various governments, yet has come out unscathed each and every time.
A sworn advocate of true federalism, Asiwaju Bola Ahmed Tinubu was recently nicknamed, #CityBoy – a name that came from his significant effort that laid the foundation for transforming Lagos into one of Africa's few megacities, not just in name and population alone but also in terms of infrastructure!
It can thus be said that in the last 30 years in Nigeria's political landscape, few have had a similar ability to effortlessly deliver governance or come close to the political dexterity of Bola Ahmed Tinubu. In conclusion, the Jagaban of Borgu, Lion of Bourdillon, the Asiwaju of Nigeria has arrived and only the bravest or most committed gamblers would bet against him now.
James Okechukwu, a political analyst writes from Abuja