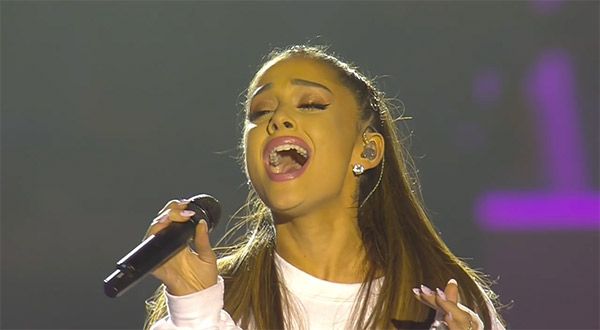 Ariana Grande in Manchester
---
Ariana Grande has a lot to say!
The gorgeous 23-year-old singer took the opportunity at her One Love Manchester concert to really open up about her feelings after a crazed maniac killed 23 people at her concert on May 22. She definitely didn't hold back, and the emotional speech was totally honest, vulnerable and passionate.
"I wanna thank you so much for coming together and being so loving and strong," Ari gushed, clearly emotional. "I think the kind of love and unity you're displaying is the kind of medicine the world needs right now. Thank you for coming tonight, I love you so much, thank you." Ari then remembered a convo she had with one of the victims' mothers. "I wanna also say I had the pleasure of meeting Olivia's mommy a few days ago. She said I should stop crying because Olivia wouldn't have anted me to cry. And then she told me that Olivia would have wanted to hear the hits. So that being said, we had a totally different show planned but we changed everything. This evening is so bright, so thank you." Aw!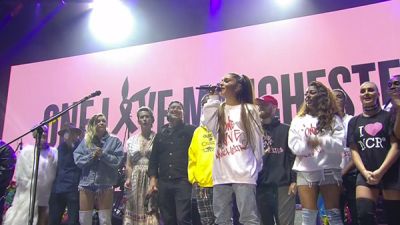 Ari held the benefit show to raise money for victims that were injured in the attacks, and the families of those that died. When she announced it, she made it clear that she didn't want to run and hide, or live her life differently. Instead she planned to "love more, sing louder and live more kindly and generously than before." What an angel! She and many other stars came together on June 4 to prove that, including Katy Perry, Miley Cyrus, Justin Bieber and many more.
Ariana's speech just now, talking about Olivia Campbell and my heart is so full my emotions are everywhere i can't ??? #OneLoveManchester pic.twitter.com/4uCEPsMVaZ

— madison. (@psithurxsm) June 4, 2017
---

Receive Alerts on: Whatsapp: +2348139009126 (WhatsApp Only), Twitter: @OkayNigeria.