Stephanie Otobo Slams $5m Suit Against Apostle Suleman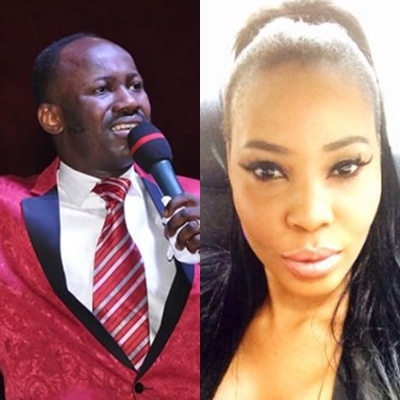 Stephanie Otobo has taken a step further her alleged love affairs with Apostle Johnson Suleman.
---
A letter dated April 19 2017 with case file number CV-17-573595, signed by Registrar of the Ontario Superior Court and addressed to Apostle Suleman's Ontario residence, posited that Otobo has filed a lawsuit, claiming Canadian $5milion for damages.
The suit, also seeks an order restraining Suleman from contacting and communication, directly or indirectly, with Otobo while in Canada, and restraining the Apostle Suleman from being at a distance of at least 500 meters from the plaintiff.
According to Canada laws, Suleman has within 40 (forty days) to serve and file his statement of defense. In the event of his failure to appear before the Ontario Superior Court, however, judgment may still be given against him without further notice given to him.
Below is a list of the charges published by SaharaReporters:
1. Breach of trust
2. Breach of fudiciary relations
3. Breach of contract
4. Negligence
5. Defamation
6. Poisoning
7. Intentional and negligent infliction of emotional stress
8. Forcible confinement
9. Multiple instances of battery
10. False imprisonment
11. Fraud
12. Assaults
13. Sexual assaults
14. Sexual harassments
15. Harassments and malicious prosecution.