Stephanie Otobo: Anyone Can Type, Print A Bank Statement – Apostle Suleman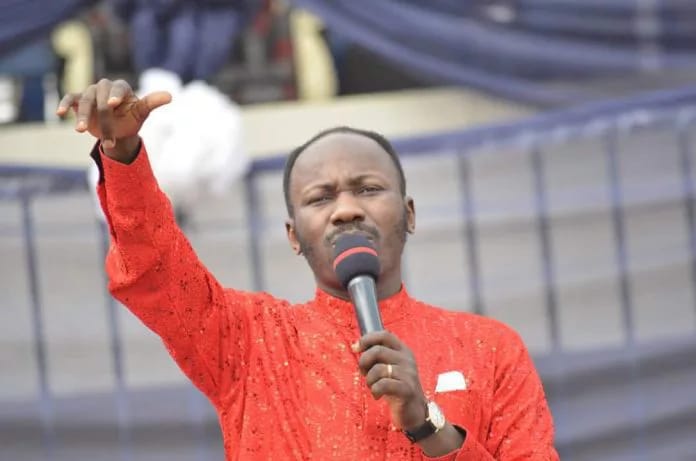 The general overseer of the Omega Fire Ministries OFM, Apostle Johnson Suleman has said that the bank statement released by his alleged Canada-based lover, Stephanie Otobo, is false.
---
According to the clergy represented by his Media Advisor, Phrank Shaibu in a chat with the Saturday Sun, Stephanie is adding up lies to cover her tracks of lies.
Below is an excerpt from the interview:
"I am surprised that you are even referring to the purported bank statement as genuine. Anyone can type and print a statement and call it by any name. But it cannot be called a genuine bank statement, except such a statement has been so verified by a forensic expert under the direction of a court of competent jurisdiction to so do.
"More so, what we had expected was evidence to buttress her initial claims of tons of dollars, Euros and the Pound Sterling being paid into her account, not the lodgment in a Naira account. Certainly, this is an afterthought, but it is not strange as Apostle Suleman engages in a lot of charity.
"On a daily basis, men and women come for help and he assists them. Was Apostle Johnson Suleman sleeping with Nollywood Actor, Leo Mezie, when he paid his entire medical bill of £30,000 for kidney transplant in UK? This is what they don't tell you. Was Apostle Suleman sleeping with the nine poor Nigerians (male and female) he gave cars to on February 5th, 2016? Was he sleeping with the 30 widows and other indigent people that he gave out millions to start their own businesses?
"To Johnson Suleman, giving is a lifestyle. The fact is that, we have never denied extending help to this girl. What we actually said was that, help was extended to her based on her claimed need and her quest to stop functioning as a stripper in Canada. And there is nothing strange about that.
"If money was given to her to turn her life around and embrace God, it's okay. But then, it must be noted that these so -called revelations are only an after-thought. The girl is just busy trying to manufacture weak and unsubstantiated evidence to justify her story.
"Fortunately, everything she says contradicts her initial claims, thereby exposing her as a serial liar. The truth is that it's simply preposterous to want to join issues with her, since it's so obvious where she's coming from. So, I don't want to be dragged into any expanded debate with a Stephanie Otobo.
"The mother has asked for forgiveness and we have looked into that accordingly. She alone, knows where she is getting her inspiration and or motivation from on this issue . But it will do her well to seek forgiveness from God. Not from Apostle. Because of the import inherent in what she is doing."