Solomon Dalung Reacts to Reports On His Conversion to Islam
Shortly after his visit to the Wuse Zone 2 mosque, Abuja to celebrate the ongoing Islamic Ramadan fast, rumours had it that the minister converted to Islam.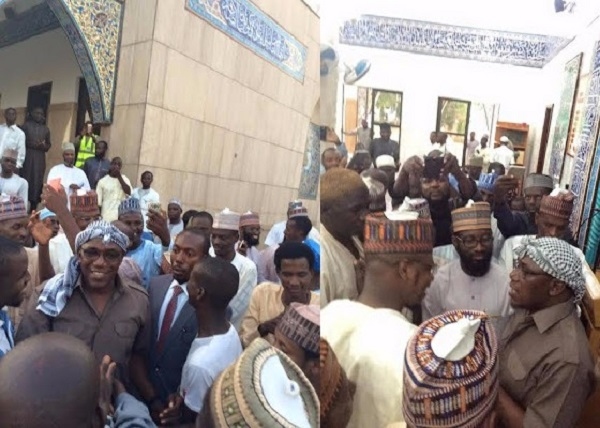 Solomon Dalung, Minister of Youth and Sports Development, has dismissed reports he converted to Islam.
Shortly after his visit to the Wuse Zone 2 mosque, Abuja to celebrate the ongoing Islamic Ramadan fast, rumours had it that the minister converted to Islam.
Dalung was seen dressed like a Muslim as he joined other Muslim-faithfuls to participate in Ramadan prayers.
"Allahu Akbar… Assalamu alaikum. I was told that Hon Minister of Youths and Sports, Solomon Dalong accepted Islam and Khalimatul Shahada by Shiek Dr Isa Ali Pantami and sheik Khalid yesterday… In Abuja… Pls, endeavor to pray for his endurance and quick understanding of Islamic knowledge as a new Revert. Not officially confirmed though," one Okeshola Qazeem wrote on his Facebook page, with pictures of the minister in Muslim attire.
However, Dalung in a lengthy statement on Tuesday has described the reports as "handiwork of crisis promoters".
The statement reads: "The social media platform has been inundated with a media hoax about purported theory of conversion to Islam of one Solomon Dalung, Minister of Youth and Sports, Nigeria. Sincerely, I doubt if this rumour is referring to me. And if indeed, the reference is me then it is quite unfortunate. I am a Christian, who believed in the death and resurrection of Jesus Christ. I belong to the school of thought known as Christian realism. I am a God knowing liberal, who believed in humanity as basis of my faith. I love human nature and relates freely with all. It is my conviction that you can only preach the gospel by works and not mere speeches.
"In my approach to serving God, I prayed for the spiritual gift of love, charity, humility and courage, to God be the glory I am blessed me with all. Human beings are born equal, we are what we are today by virtue of privilege and grace, so nobody should boast. Over a decade ago, God revealed to me a different perspective to worshiping him. In the revelation, I was instructed to work for peaceful coexistence between all people. Love was unveiled to me as the weapon. I was not left in doubt about the task and challenges associated with this mission.
"You will succeed despite all odds was the assurance from my Creator. Immediately, thereafter I was purged of religious bigotry, ethnic chauvinism, discrimination, hatred etc. Thereafter, I became filled with the courage to speak out boldly against all forms of injustice, hatred, violent crimes and discrimination. This is the beginning of my current predicaments which has earned me so many names, none believer, anti-Christ, traditionalist, Muslim and so on.
"My love for the Muslim ummah, non-Christians, traditionalists, atheists is unconditional. It is not evidence of sharing in their faiths but an expression of obedience to the Lord of God Almighty who created man in His image and likeness. The Muslim community deserves more of this love because of the existing animosity between Christians and Muslims.
"Therefore, those spreading the ill-fated rumor because of my presence at two tafseer in abuja is evidence of ignorance. It is mere figment of their imaginations informed by wishful zeal to have me in the Muslim community. There is nothing wrong with wishful thinking but what is bad here is the zeal to misinform and mislead gullible innocent population. The irony of this deceit is that the architects did not tell Nigerians my new Islamic name.
"That they still say Minister Solomon Dalung accepted kalmatul shaada, without an Islamic name is fallacy of this calumny. The intention of those behind this satanic act is political solely to instigate confusion between Christians and Muslims. The relative peaceful situation in the country is against the interest of crisis entrepreneurs, so they are exploiting my peace mission to the Muslim community to enhance their enterprise.
"We cannot fall prey to handiwork of crisis promoters who survive only on the blood of innocent people. Be calm, SOLOMON SELCAP DALUNG has not changed his faith, if God so desired nobody can oppose it but for now let's give peace a chance and work towards the unity of our country. I will live my life in the service of humanity, peace is my mission, love is the vehicle and humility is the weapon. Oh God, Master of the day of Judgement, deliver us from the afflictions of men of folly that we may find favour with you on that great day. Love you all."